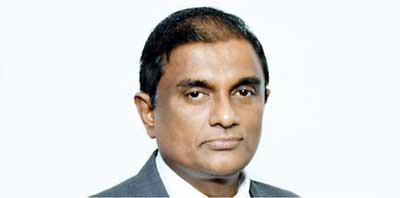 By Charumini de Silva

The Monetary Board Secretariat on Friday (2) directed the Company Secretary to oust the Lankaputhra Development Bank Ltd. (LDB) Chairman after considering the opinion of the Attorney General in terms of the Section 42 (7) of the Banking Act, the Daily FT learns.

Accordingly, the Monetary Board Secretariat in a letter dated 2 September 2016 directed the Company Secretary to bring it to the immediate notice of the Board of Directors of LDB that as per the Attorney General, in terms of Section 42 (7) of the Banking Act, Lasantha Goonawardena cannot hold the office of Chairman of LDB from the date he was notified by LDB of the determination made by Director Bank Supervision dated 24 March 2016.



The Bank Supervision Department of Central Bank refused to ratify Goonawardena's appointment as chairman in a letter dated 24 March, after he was found to be in violation of the Banking Act for corporate governance violations and violating confidentiality regulations under the Banking Act. The CBSL Bank Supervision Department addressed its letter to the then General Manager and CEO of LDB.

The Bank Supervision Department found that LDB Chairman Goonawardena had essentially failed the 'fit and proper' test crucial to ensuring the integrity of officials heading banking and financial institutions thereby he could no longer serve in the position of Chairman of Lankaputhra Bank as he did not possess the stipulated professional qualifications required as per Section 3 (5) (IX) of the Banking Act, Direction No. 12 of 2007.

The letter also cited that Goonawardena had already been warned by the Bank Supervision Department about violating confidentiality laws during a meeting held in May 2015.

However, in a letter dated 11 May, Company Secretary to the Lankaputhra Development Bank Gamini Pitipana told Secretary to the Ministry of Public Enterprise Development, Ravindra Hewawitharana that the letter issued by the Bank Supervision Department on 24 March had been "recalled" by former Central Bank Governor Arjuna Mahendran.

The Bank Supervision Department of Sri Lanka's Central Bank is mandated to monitor banks and financial institutions operating in the country. Its remit includes assessing the suitability and compliance of senior officials in banking institutions island-wide to ensure stability and confidence in the financial system. All banks and financial institutions registered in Sri Lanka are bound to comply with directives from the Central Bank's Bank Supervision Department.

Against this backdrop, it was questioned by the industry that as the LDB Chairman's appointment was not valid, who would take on the responsibility of the decisions made by him, the money spent by him and the allowances and perks enjoyed by him during the period.

The Daily FT also learns from sources that Goonawardena was in the process of arranging a demonstration today (5) with a group of his supporters at LDB challenging the Central Bank's decision.