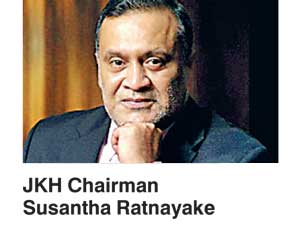 John Keells Holdings Plc (JKH) has raised Rs. 8 billion at zero cost with 2015 warrant holders exercising their conversation, while the premier blue chip also delighted its over 11,000 shareholders with a surprise Rs. 4.50 per share interim dividend for FY 16.

With 2015 warrants concluding the period for conversion to ordinary shares last week, around 49.25 million shares were added to JKH's number of shares in issue making it a total of 1.1894 billion. The 2015 warrants were part of the equity-debt financing deal of JKH for its $ 850 million Waterfront project.

Analysts said the exercising of warrants to ordinary shares at Rs. 162 per share reflects the continued confidence placed by shareholders and warrant holders of JKH. Top 10 2015 warrant holders included Capital Trust Holdings 16.6%, Broga Hill Investments 10.3%, Aberdeen Global 8.5%, Rusi Captain and related parties 5.9%, ETF 4.3%, Melstacorp 3.8%, Deutsche Bank 2.2%, K.N.J. Balendra and related parties 3.8% and Dee Sand Holdings 2%.

JKH Directors including Chairman Susantha Ratnayake, Deputy Chairman Ajit Gunewardene and Ronnie Peiris exercised the conversion.

JKH has also announced an interim dividend of Rs. 4.50 per share providing an estimated Rs. 5.3 billion bonanza. As at September 2015, JKH had around 11,123 shareholders and a public float of 98.5%.

The integrated development Waterfront branded 'Cinnamon Life' at Colombo 2 is progressing with around $ 400 million already spent.

The surprising interim dividend is on account of rewarding its shareholders, improved performance and hefty reserves JKH enjoys whilst there was speculation that the company had been under pressure from major shareholders for an extra dividend. Traditionally its interim dividends have been at Rs. 1 per share.

In early November JKH reported a strong second quarter FY16 with its consolidated pre-tax profit rising by 27% to Rs. 4.64 billion. Resilient performance in the second quarter pushed the cumulative FY15 first half pre-tax profit by 17% to Rs. 7.83 billion. Last year's comparative figure of Rs. 6.67 billion included a capital gain of Rs.389 million.

In FY15, JKH paid Rs. 3.50 per share as dividend or Rs. 3.47 billion up by 6% from the previous year. However, dividend payout was 34.5%, down by 22% from FY14. Total shareholder return improved by 21.7% in FY15.

At company level JKH had Rs. 39 billion in revenue reserves and at the Group level the figure was Rs. 67 billion. JKH Group also has Rs. 68 billion in short-term investments.

The Cinnamon Life integrated resort consists of an 800-room luxury Cinnamon hotel, avant-garde experiential and entertainment haven, residential apartments, state-of-the-art office spaces, a wide variety of food and beverage offerings and ballroom, conferencing, theatre and banqueting spaces. JKH said 40% of the first tower was already booked.

Among the top shareholders of JKH are Sohli Captain and related parties 19.4%, Broga Hill Investments 10.4%, Aberdeen Global 8.6%. Melstacorp 3.7%, Shroder International 3.4% and Deutsche Bank 3%.