Bilateral trade at $ 3.4 m, 18% of all imports from China Sri Lanka
pavilion showcases 125 exhibitors
Lankan exports growing, says Rishad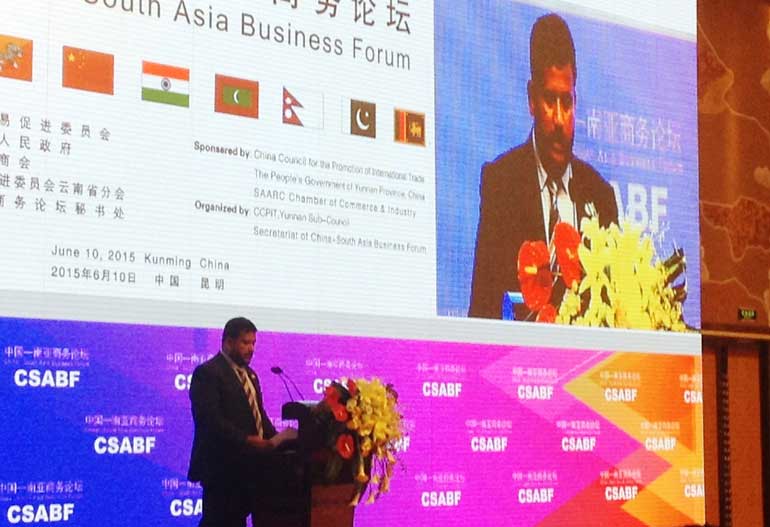 Minister Rishad Bathiudeen addressing the 10th China South Asia Business Forum
Participation in the annual Kunming Fair in China strengthens Sino-Lanka relations assist to boost bilateral trade relations, said Industry and Commerce Minister Rishad Bathiudeen.

Minister Bathiudeen, addressing the 10th China South Asia Business Forum at the third China-South Asia Exposition at the China Import & Export Fair held in Kunming, insisted relations between Sri Lanka and China were increasing.

The Sri Lanka Export Development Board organised the Sri Lanka pavilion with 125 stalls showcasing Lankan gem and jewellery, tea, coconut products, spices, organic products, handcrafts, batik and ceramic products.

"Sri Lanka and China are historic friends and share a multifaceted relationship going back several centuries. The Silk Route is one reason for this enduring bilateral friendship," said Bathiudeen.

"This year's theme 'Promote the Construction of Silk Road Economic Belt; Accelerate the Pace of Business Cooperation' is a very timely topic of discussion as the Silk Route is back in South East Asian trade dialogue. Being strategically located at the tip of South Asia Sri Lanka was a natural port of call for Silk Route navigators and was well-known as 'His-lan' and 'Silan' by the ancient Chinese sailors," said Minister Bathiudeen.

"The ongoing cordial bilateral relations between both countries advanced greatly when Chinese president Xi Jinping arrived in Sri Lanka last year strengthening the on-going Silk Route cooperation further. Construction of some relevant infrastructure has already been completed to maintain inter-connectivity. We believe that this route can also open up opportunities for Sri Lanka to import raw materials from China and Far East, process them in Sri Lanka and export as value added products. Sri Lanka is now progressing forward with a rapid development program launched under the new Government of President Maithripala Sirisena.


The President of Sri Lanka concluded a very productive State visit to China in March 2015," he added.

Bathiudeen pointed out Chinese participation in the Sri Lankan economy is also considerably significant. China is the second largest supplier to Sri Lanka. Chinese imports to Sri Lanka are worth $ 3.4 billion covering 18% of total imports to Sri Lanka.

Sri Lanka's main export items to China are apparel, footwear, bulk tea, mixed coir fibre mattresses, fibre sheet rubber, and rubber tyres. The imports to Sri Lanka from China have also increased from $ 630 million in 2005 to $ 3.41 billion in 2014.

In 2014 Chinese investments to Sri Lanka was at $ 403 million. The Minister noted there is much scope for further investment in sectors such as tourism and leisure infrastructure, knowledge services, utilities, apparels, export manufacturing, export services, agriculture and education.

"Sri Lanka also encourages investments in low cost energy and renewable power generation projects. China is the second largest tourist market of Sri Lanka and rapidly emerging tourism markets as well. Tourist arrivals from China in 2014 were at 128,166. We invite you to come and invest in tourism related infrastructure development. It is clear that the annual Kunming Fair is one of the most practical ways to strengthen our historic bilateral trade relations."

Chinese Vice President Li Yuanchao addressing the opening ceremony emphasised that China would actively support the role of peaceful development in the region and that the development of China's trade relations would open opportunities for surrounding nations including Sri Lanka.

China is the 14th largest export market for Sri Lanka with exports worth $ 173 million in 2014. Sri Lanka's exports to China in the recent past has shown an upward trend reaching $ 173.48 million in 2014 from a mere $ 25.64 million in 2006.