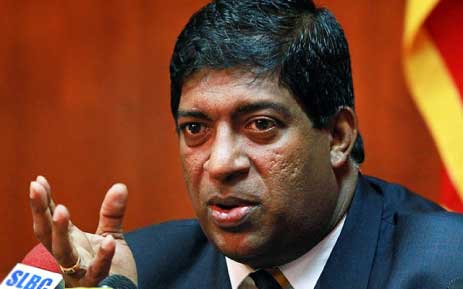 Reuters: A 10% fall in the rupee since the Government took office in January last year has increased the country's foreign debt by Rs. 507 billion ($ 3.48 billion) in 17 months, Finance Minister Ravi Karunanayake told Parliament on Tuesday.

Sri Lanka's state finances are shaky, partly because of heavy borrowing by the previous Government. However, a group of parliamentarians, led by former leader Mahinda Rajapaksa, has accused President Maithripala Sirisena's Government of also borrowing heavily since it came to power in January 2015.

Karunanayake told Parliament that the rupee depreciated 10.1% from January last year to 31 May. In dollar terms, the total foreign debt increased by 3.5% to $ 24.59 billion in that time.

Sri Lanka allowed the rupee to fall last year in the face of a balance of payments crisis, but the depreciation pressure has eased since the International Monetary Fund approved a $ 1.5 billion, three-year loan for Sri Lanka in May followed by inflows from sovereign and syndicated loans.

Prime Minister Ranil Wickremesinghe said on 10 August that the previous Government hid debts of at least Rs. 1.36 trillion on the books of some state and semi-government institutions, aggravating the debt crisis. Rajapaksa has denied hiding debt.
Ravi tells P'ment Govt. helped manage rupee depreciation
Despite a huge debt burden and the highly volatile international economic climate, the Government's plans have helped to manage the depreciation of the rupee this year, Finance Minister Ravi Karunanayake told Parliament yesterday.

Responding to a question from Joint Opposition MP Udaya Gammanpila, Karunanayake said: "The depreciation of the Sri Lankan rupee in comparison to the US dollar was 6.9% on 31 December 2014. This has been reduced to 6.5% by 31 May 2016," he said.

"The previous Government borrowed $ 1,000 million through the National Savings Bank at 8.75% interest. With the rates coming down drastically for subsequent borrowings, we still have $ 330 million idling. We are unable to reinvest it due to the high rates applicable. We have been borrowing at 2%," he added, ensuring that the five-year plan, which was presented on 5 November, would be supported by the 1,500-day plan scheduled to be presented in Parliament in a few days' time.

"Our foreign currency reserve has increased to $ 6,900 million. At this moment we have seen weekly inward remittances worth $ 125 taking place. Direct investments are also flowing in," said Minister Karunanayake, who assured that pressure on the rupee would reduce in the days to come.