Says unprecedented development planned for next three years
Calls on people to unite to achieve vision, insists victory secured freedom for all
Wishes the nation a Happy New Year
As the first anniversary of the Government edges closer Prime Minister Ranil Wickremesinghe yesterday while delivering a special statement at the start of 2016, expressed confidence that critics would join the development drive planned for the next three years.

The prime minister recalled that in January last year, the people of Sri Lanka elected President Maithripala Sirisena as their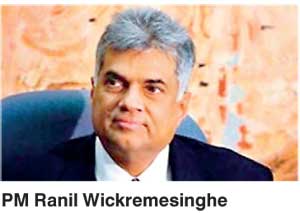 President. With his election, the Government embarked on a new journey filled with hope and possibilities, he said.

"We pledge to bring prosperity never seen before, to Sri Lanka. The critical voices will soon join us to see it through – undoubtedly. That prosperity is for Colombo, as it is for Trincomalee. It is for Hambantota as well as for Jaffna. Let us unite as one to see that vision come to pass."
"Under President Sirisena's guidance, we plan to have in place a mechanism that will guarantee economic and social development, within the next three years. This journey seeks prosperity for all Sri Lankans; the journey that assures every Sri Lankan of a better tomorrow. There will be criticism and pointing of fingers but this journey cannot be held back."
As the Good Governance movement completes one full year in a few more days, Wickremesinghe insisted he looks back with a sense of achievement and pride for having secured freedom for all Sri Lankans. "For the first time in history, a President in power has chosen to curtail some of the powers vested within the office of the President. The Elections Commissioner has been assured full authority and power within his sphere, which enabled the country to enjoy a free and fair election," he noted reading out the special statement.
Upon the conclusion of the parliamentary election, the two main parties have been able to come together to form a National Government, successfully overcoming the challenges posed by accusations of human rights violations, he said. The prime minister went onto say the Government has able to join hands with the international community in taking the initial steps towards ensuring human rights and freedom for all Sri Lankans. The Government has also commenced the process of giving land back to the civilians of the North and while resettling them will ensure the rights of people living in other areas as well.
"We have embarked upon a new journey that continues this year – our goal is to ensure economic and social prosperity for Sri Lanka; enhancing income levels, providing employment for youth, introducing new and innovative economic measures, paving the way for Sri Lanka to become poverty free and economically empowered, establishing a system of education on par with the highest global standards and safeguarding the rule of law in a land that is socially forward looking, will be the milestones of that journey."
Wickremesinghe called on all Sri Lankans to join the Government, pointing out that his administration also has the support of the international community.