Smart Metro inks two agreements with Sony Corporation and FujisoftInc, Japan
By Charumini de Silva

Smart Metro, a Sri Lankan-based international software development company, yesterday inked two landmark agreements with Sony Corporation and FujisoftInc, Japan to become Sri Lanka's sole agent for the distribution and application of Sony's Near Field Communication Technology, widely known as 'FeliCa,' and Fujisoft's finger-vein biometric authentication technology.

The two agreements will broadly allow Smart Metro to provide a wide range of products and applications based on the above technologies.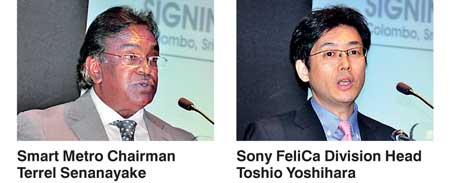 Smart Metro Chairman Tyral Senanayake said when the company was launched five years ago the firm wanted to introduce innovative technology to Sri Lanka that could help basic public infrastructure ranging from transport to healthcare.

"Today is a culmination of all the hard work that we have put in during the last few years. Our collective efforts has positioned Smart Metro to provide unique, exclusive and innovative technologies ranging from transport cards to unique tea procurement solutions as well as security solutions," he added.

Smart Metro's partnership with Sony will make it the first Sri Lankan company to have sole rights and access to this vast knowledge base.

Sony FeliCa Division Head Toshio Yoshihara said Sri Lanka is a fast growing country and therefore the company encourages adopting contactless technology into national infrastructure. "Sony is confident that Sri Lanka will expand the usage of contactless technology, which brings benefits to both service providers as well as for consumers."

He added that from this first step with Smart Metro, the firm would further expand the FeliCa business in the Sri Lankan market.

"We strongly support Smart Metro's provisioning of a common platform for contactless payment service. Not limiting to cards, we also look for NFC mobile contactless experience and other sources like wristbands in order to offer Smart Metro customers a wide choice which will enable them contactless convenience. This technology could be used for transportation, retail business, banking and tea industry as well."

Smart Metro CEO S.Hendawitharana said the partnership between Smart Metro with Sony and Fujisoft is the ultimate win-win scenario. "Our partnership with Sony will provide wider deployment of exciting NFC options ranging from tea, transport, health, defense and many more than any other solution on the market. The partnership with FujisoftInc allows Smart Metro to market Smart Authentication that uses the finger-vein authentication which in today's world is the most secure form of authentication."

Highlighting the great potentials in the IT sector, BOI Chairman Upul Jayasuriya insisted Japanese companies to harness the untapped opportunities in the industry, while inviting them to set up factories here.

"While Honeywell had been looking at Sri Lanka, Sony and Fujisoft were smarter to launch its smartcard today. We want to see your products being manufactured in Sri Lanka," he added.

Further he pointed out that the Government is looking at new investment friendly legislatives with the hope of increasing foreign direct investment flow into the country. "We are looking at the possibilities of making the investments in Sri Lanka whether it is local or foreign investment to be of a fundamental right of the people who make the investment here."

Noting that Sri Lanka has exports of IT software nearly $900 million per annum he noted the target for next year is $2 billion. "With the help of these new inventions and coordination's I'm sure we can take it forward much faster than we expect it to be."

Smart Metro also partnered with Commercial Bank which became the first bank to introduce a hybrid card with EMV contact and FeliCa contactless multi-application chip. This hybrid card will function as a debit card using its contact chip while the FeliCa chip will make the card to independently function as an Identity/ Loyalty Card, Electronic purse and Travel card.

The first card of this nature was launched for the tea sector, where the tea leaves suppliers will use the card both as an identification card and a debit card to make payments to the factories.

Commercial Bank Managing Director Jegan Durairatnam said the tea industry is a vital constituent of Sri Lanka's export economy, and providing adequate infrastructure facilities for those who are engaged in the industry is a critical requirement. Commercial Bank is therefore delighted to join with Smart Metro to support the tea leaves suppliers by powering up the 'Smart Tea Procurement System'.

"To us, tea industry is one of the most important in our suite of business, because we look at it as the 'unglamorous wife' rather than all the new ones that have come into take higher positions. The tea industry is critical and most stable because of the employment it provides and long-term sustainability of the income stream. This innovative card will function as a debit card and also have the ability to independently function as an identity/loyalty card with many other users. This is a landmark occasion where new technology is utilised to provide convenience and assistance for the traditional tea industry, which is the backbone of our exports," he added.

As Sri Lanka's largest private bank Commercial Bank always strives to create value to its customers through the introduction of innovative products and services.

"We are keen to take our country to the net level through effective use of technology. The efficiencies that can be achieved through this type of card will no doubt benefit the industry in the big way. This unique card will help the factory owners, tea leave suppliers to effectively manage their procurement process as well as their finances. This will eliminate manual record keeping, thereby increasing efficiency and productivity," Durairatnam noted.