By Chamodi Gunawardana

The coalition Opposition yesterday stressed that the United People's Freedom Alliance's (UPFA) victory was confirmed with former President Mahinda Rajapaksa contesting the forthcoming election.

Addressing a press briefing, National Freedom Front (NFF) Leader and form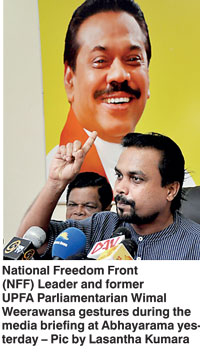 er UPFA Parliamentarian Wimal Weerawansa asserted that the UPFA would show how real 'good governance' should be after the victory.

"We have already confirmed the UPFA's victory on 17 August. Those who were with former President Rajapaksa during the last presidential election are still remaining. We have corrected our past mistakes and expect to move on a better political track. The United National Party (UNP) is going to lose," Weerawansa stated.

Commenting on UPFA nominations, Weerawansa confirmed that former President Rajapaksa had signed nominations to contest from Kurunegala District yesterday.

"Former President Rajapaksa has signed nominations and he will contest from Kurunegala. Western Provincial Council Chief Minister Prasanna Ranatunga, Western Provincial Councillor Udaya Gammanpila and I also had an opportunity to sign nominations," Weerawansa exposed.

Weerawansa added that if the UNP had given nominations for candidates who were facing allegations of fraud and crime, then the UPFA would do the same.

"We just want to check whether the UNP has given nominations for culprits, if yes we might do the same. There will be so much gossip over nominations. We are requesting the public to wait and watch what is going on. The results will be released on 13 July," he said.

Criticising the UNP and the Prime Minister Ranil Wickremesinghe, Weerawansa claimed that Wickremesinghe did not have any idea how to treat media well.

"Prime Minister Wickremesinghe organised a special press conference to address media on Tuesday. At that conference, the media had been treated as beggars. The UNP did not even provide chairs to sit. It was Ranil's media freedom and so called 'good governance'," Weerawansa charged.