Adam Capital Plc, part of Adam Investments Plc, has announced two major initiatives aimed at bolstering its business and future prospects.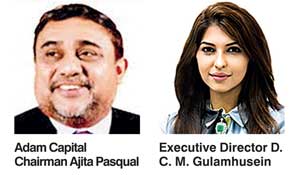 In separate announcements to the Colombo Stock Exchange, Adam Capital said its subsidiary Adam Carbons Ltd has initiated discussions to operate a Renewable Energy based Electrical Power Generation unit.

It is estimated that this would generate an exportable capacity to the national grid of 3.4 Gwh electrical units per annum (approx installed capacity of 440 Kw). This project would eliminate pollution from the charcoaling process along with the renewable power generation should enable Adam Carbons to successfully register and trade in Carbon Credits under the guidelines of the Kyoto Protocol.

Adam Carbons has also initiated a Carbon Dioxide Production Process through the use of Bi-Products of Activated Carbon manufacturing.

"We wish to inform you that Adam Carbons (Pvt) Ltd has initiated discussions to capture carbon dioxide (CO2), processed on site and refine it into food grade purity," Adam Capital's filing to the CSE said.

"This would enable Adam Carbons (Pvt) Ltd to earn valuable non-core product income to its profitability. The project would be located at the Adam Carbon Factory site at Giriulla and this project would eliminate the deposition of effluent waste gases into the atmosphere," the company added.