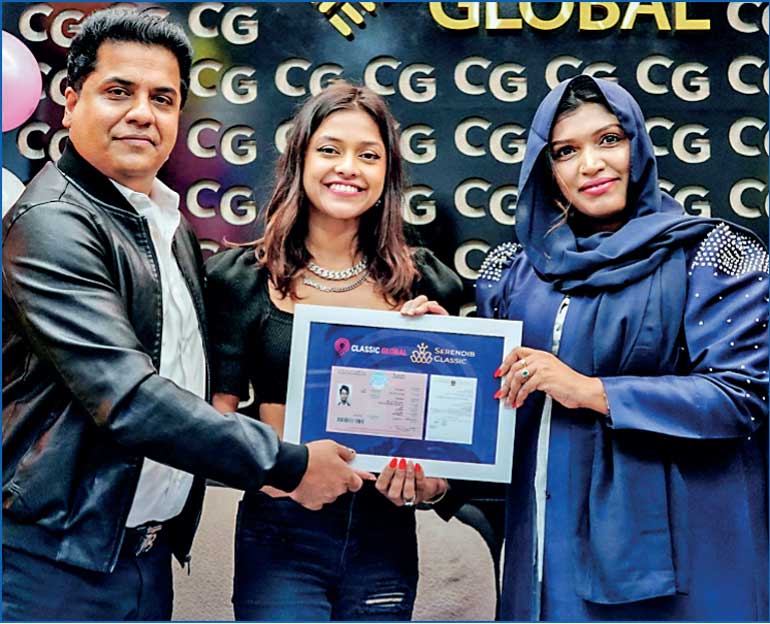 Yohani with her Dubai Golden Visa along with Classic Global CEO Sadhic Ali and Serendib Classic CEO Asma Ali
Renowned singer and cultural icon Yohani has been awarded the prestigious Golden Visa in Dubai, marking a significant milestone in her illustrious career.

The Golden Visa recognises Yohani's exceptional talent and global impact as an artist, honouring her contributions to arts, culture, and entertainment.

With gratitude, Yohani acknowledged the unwavering support of Classic Global and Serendib Classic, along with the expertise of Sadhic Ali and Asma Ali, for their instrumental role in making this achievement possible.

As Yohani continues to captivate audiences with her unique blend of traditional Sri Lankan folk music and contemporary pop, the Golden Visa serves as a testament to her unwavering dedication to artistic excellence and her commitment to promoting cultural diversity on a global scale.

Yohani is a renowned singer and cultural icon known for her captivating performances and distinct musical style. With a passion for showcasing Sri Lankan heritage and culture, Yohani has amassed a global fanbase and garnered critical acclaim for her unique fusion of traditional and modern sounds.

The Golden Visa is a prestigious honour awarded by the authorities in Dubai to individuals who have made significant contributions to various fields, including arts, culture, and entertainment. It recognises exceptional talent and serves as a symbol of recognition for outstanding achievements.