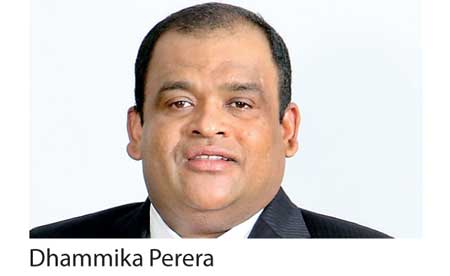 Says enhanced air connectivity with 20 more flights key before doing promotion and marketing for Sri Lanka tourism
Business leader Dhammika Perera on Wednesday emphasised that without proper connectivity Sri Lanka could not achieve the four million tourist arrivals target.

Vallibel Group Chairman Perera made this observation at the World Tourism Day Celebrations - Tourism Leaders' Summit and International Research Symposium 2017 at the BMICH titled 'Sustainable Tourism for Development'.

Speaking at the session titled 'Way Forward For Sri Lanka Innovations, Strategies and Implementation for Sri Lanka Tourism Strategy 2017-2020', Perera raised serious concerns about achieving the four million arrivals target set by the Government.
Perera, responding to a question posed by panel chair Dinesh Weerakkody, Chairman of the National Human Resource Development Council, said: "Achieving the four million target by 2020 would be very difficult without proper connectivity. We need at least another 20 more flights into the country on a daily basis."

"Spending money on promotion and marketing would be worthless without fixing this problem," he added.

Perera noted that Sri Lanka's natural arrival growth was around 5-10% and therefore by 2020 the country could only get to three million and that too would be a challenge.

Responding to a question from the audience via SMS as to whether there would be a bloodbath with the opening of three more new five star properties in Colombo in 2018, Perera said it would be good for the industry because they would attract new visitors.

The other panel members who participated in the discussion were Timothy Wright - Vice President/General Manager, Shangri-La Hotels & Resorts Sri Lanka; Thilak Weerasinghe – Chairman and Managing Director LSR; Tatiana Nenova - Program Leader of Trade and Competitiveness of World Bank, Colombo International Financial and Trade Organizations for Sri Lanka Tourism; Prof. Dimitri Loannides from Mid Sweden University, Sweden and Deni A. Dukic - General Manager, Galle Face Hotel.

The majority of the panellists responding to the final question posed to them as to whether Sri Lanka was promoting the destination aggressively to take advantage of the changing travel trends around the world said more needed to be done by the Government to promote Sri Lanka as one of the finest islands for memorable, authentic and diverse experiences.