---
Megapolis Ministry Secy. said waste-to-energy projects have high generation costs
High humidity levels in local garbage driving up expenses
Says Cabinet has made decision to stop future waste-to-energy projects
Cabinet has decided it will not allow any future waste-to-energy projects in Sri Lanka as they are too costly, Megapolis and Western Development Ministry Secretary Nihal Rupasinghe said yesterday.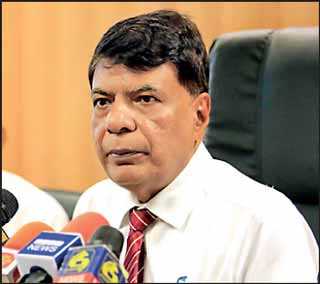 Megapolis and Western Development

Ministry Secretary

Nihal Rupasinghe


Speaking at a press conference, Rupasinghe noted that two waste-to-energy projects were given the Cabinet green light shortly after the Meethotamulla disaster, which killed 32 people, to turn waste from Colombo into energy but that the Government had subsequently realised this resulted in higher generation costs.
He pointed out that while the Ceylon Electricity Board (CEB) was able to generate a unity of electricity at an average cost of Rs. 22, the waste-to-energy plants would incur a cost of Rs. 35.10. One of the reasons for this was also that the quality of local waste was different from the waste commonly found in European countries or Singapore, where waste-to-energy projects are commonly implemented.

"The Government has to incur an additional cost of about Rs. 3,000 to produce electricity from a tonne of waste. The waste generated in Sri Lanka has a high level of humidity of 70-80%, and this means that the cost of incinerating the waste and creating electricity will incur a higher cost," the Secretary said.

The waste-to-energy projects will be run by private sector companies, and the energy they produce will be purchased by the CEB. Given the higher levels of expense that will have to be shouldered by the Government, the Cabinet has decided to not approve any future waste-to-energy projects, he added.

"Even these two projects were accepted because there was significant attention on finding ways to dispose of waste in an environmentally friendly manner after the Meethotamulla disaster. Even when we were discussing these solutions, the Colombo Municipal Council (CMC) did not participate at the discussions."

Megapolis and Western Development Ministry Social Specialist Nimal Premathilaka, speaking to media on the sanitary landfill in Aruwakkalu, Puttalam, assured that all precautions had been taken to ensure the landfill will be sustainable and questioned why State officials were dragging their feet in using the facility.

"The Ministry will take 100% responsibility for the sanitary landfill project. The CMC's concerns of incurring a massive cost for transporting waste from Colombo to Aruwakkalu cannot be accepted as a reasonable issue. The CMC has already spent about Rs. 256 million dumping waste in different places since the Meethotamulla disaster. In 2015, the CMC spent Rs. 215 million dumping waste in Meethotamulla, so they cannot say the expense is too much now, given that the Aruwakkalu facility has been prepared to ensure the least impact to the environment," Premathilaka said.