By Ayesha Zuhair

Since its launch in 2011, the 'Professional and Career Women Awards' organised by Women in Management (WIM) have recognised women trailblazers across diverse fields; particularly those who have positively impacted society, achieved success defying the odds, and inspired others to also dream and think big.

The year's 'Top 50' Awards Ceremony, its ninth edition, will be held on 6 September at Colombo's Shangri-La Hotel. The Chairperson of the Panel of Judges for 2019 is Hemas Pharmaceuticals, Hemas Surgical and Diagnostics, and Hemas Logistics and Maritime Cluster Managing Director Kasturi Chellaraja Wilson. In this interview with DailyFT, Wilson throws light into the judging process and relates her experience as the Chair of the 2019 Panel.
---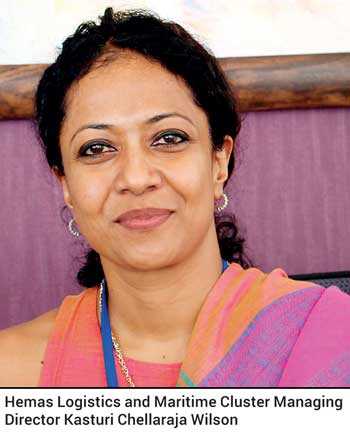 Q: This year marks the ninth year of the Top 50 Awards. Could you begin by explaining why you accepted the offer to Chair the Panel of Judges for the 2019 Awards, and what you hope to accomplish in this role?

I have been a part of the WIM Top 50 Awards judging process for some time and have seen how tough the entire process is in terms of selection and doing right by the winners. I have also seen how the awards impact women and encourage them in their endeavours. WIM has been also recognising the women who silently accomplish greatness against personal and social difficulties, and this inspired me.

To be part of an event to encourage, motivate and inspire women was what motivated me to accept the Chairperson position. This year, as the Chairperson, I have the honour of having an eminent panel of diverse judges alongside me. I would like to make use of the diversity to have a healthy and transparent judging process to ensure that the quality of the WIM awards are upheld.
Q: Could you outline the judging process, and also relate your experience so far?

The process commenced with scrutinising the applications, and researching on each application and eventually shortlisting applicants. As judges, we would look for candidates who have not applied but we feel should be considered.

The second round would be to discuss the shortlisted candidates. Each judge would have done his or her homework on each of the candidates. Finally, the winner is picked. Being a diversified panel of judges we would have different opinions and that's the beauty of it. The outcome would always be something good.
Q: What are your observations and apprehensions, if any?

In reality we need to pick only one winner which would lead to disappointments and in some instances, negative feedback. Hence it's important we have a transparent, robust judging process, and a professional judging panel.
Q: The WIM awards have several categories covering many diverse fields. What are the key attributes of nominees that are likely to influence your panel in making the final decision to make an award? Are there any characteristics that might emanate from across all these categories?

Broadly speaking – uniqueness, leadership, achieving professional success in the given field, impact on organisation and society, building success against all odds, etc. All these characteristics might not emanate right across all categories, but at least one of these characteristics would be present in the winner.
Q: Can you explain the relevance of WIM's theme for 2019 'Empowered Women for Sustainable Growth'?

This is an apt theme for Sri Lanka in the given context. We need the best talent to be productive in order to achieve economic growth. And when 51% of our population consists of women, it's a no brainer that we need more women in active economic participation. This platform would hopefully encourage more women to dream big.
Q: This year is perceived as a particularly difficult year for business, following the Easter Sunday bombings of 21 April. What are some of the strategies that can be used to build resilience, and support the country's process of economic recovery?

This year is an extremely difficult year. The Easter Sunday attack happened against the backdrop of low GDP growth and political instability. Post-Easter Sunday, we have seen the resurgence of racism and ethnic disharmony.

For a country's development, the foundation should be an inclusive, secular environment where we all first identify as Sri Lankans irrespective of religion or race. To eliminate the seeds of racism, we need influence at grassroots level, homes, communities, schools and workplaces to teach and influence citizens to be united in order to rebuild our country and this has to be done by us, collectively.
Q: How would you compare professional and career women in Sri Lanka with their peers in South Asian countries?

Honestly I think we stand head-to-head with our peers in leadership. We need maybe global exposure to the industries we operate in. On a cultural side, one aspect we have an advantage is the extended family concept offers huge support for a career or working woman.