Two Japanese shareholders collectively owning 16% stake exit
Vijayeswaran and connected parties now control 93% stake in Asia Capital
Buy out ends alleged rift between Japanese investors and the Company which senior management has denied
In recent months Asia Capital has pursued restructuring for the better
Last month announced move to buy 70% of Navara Capital and also make a timely re-entry into stock broking
---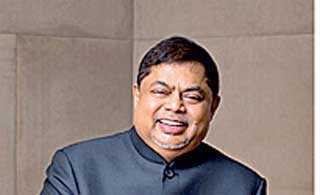 Vijayeswaran S.Vijayaratnam
---
Controlling shareholder, the Malaysia based investor Vijayeswaran S. Vijayaratnam, yesterday bought out the Japanese investors in Asia Capital PLC for Rs. 160 million.

The exit price for the Japanese investors were Rs. 7.50 per share. Net assets per share of loss-incurring Asia Capital as at 30 September 2020 was Rs. 8.28 down from Rs. 9.01 as at 31 March 2020.
Its highest price during the 30 September 2020 quarter was Rs. 8.60 and its lowest was Rs. 5.50, closing at Rs. 6.90. It closed the December 2020 quarter at Rs. 6.70, down by 3%.
The Japanese duo held a 16% stake with Director Y. Watanabe owning 11.54 million shares or 8.79% (Rs. 86.5 million) and shareholder Eiji Watanabe holding 9.79 million shares or 7.45% (Rs. 73.4 million).

The acquisition was by Fast Gain International Ltd., a connected party to Vijayeswaran. Following the purchase, Fast Gain's stake rose from 5.17% to 21.41%. Vijayeswaran directly holds 71.6% stake. His effective control now at Asia Capital is 93%.

Yesterday's buy out ends an alleged months-long rift between the Japanese shareholders and Asia Capital senior management over a lack of adequate return on their original investment, as well as other alleged irregularities. The Company has denied these allegations.

In recent months Asia Capital has carried out a key restructuring and taken new initiatives to revamp its business.

CEO Stefan Abeyesinhe said recently that the company has now undergone an initial restructuring phase following the appointment of Nishan Sumanadeera from Frontier Capital Partners as the Legal and Financial Consultant to ACAP group in September 2020 by key shareholders.

"The management will focus on expanding into new business avenues to broad base group's revenue streams," Abeyesinhe said in a statement last month.

Last month Asia Capital announced that it has entered into a share purchase agreement to acquire 70% stake of Navara Capital Partners Ltd. (NCPL) and the move was facilitated by the expertise and consultancy of Frontier Capital Partners Ltd., as the consultant to ACAP group.

Via this move Asia Capital will re-enter and recommence it stockbroking business at

a time when capital markets in the country are performing well as a result of the policy certainty prevailing under the current economic landscape of the country.

"Navara Capital Partners is currently carrying out business as an investment holding company, and the company has a 95% stake of Navara Securities. So we hope to recommence our stockbroking business shortly as part of our expansion plan," Abeyesinhe said in announcing the deal with Navara Capital last month.

Asia Capital started as a securities trading company in the early 1990s, specialising in stockbroking, and later expanded its business portfolio to encompass a larger share of the investment banking market in Sri Lanka.

As Asia Capital PLC, the company ventured into diverse industries and sectors to fulfil its vision and become a powerhouse, providing value-added investment opportunities and unmatched wealth creation services. Currently, operations consist of leisure, project management, investment banking, and advisory services. Asia Capital also has a presence in property management, real estate, asset management and information technology services.