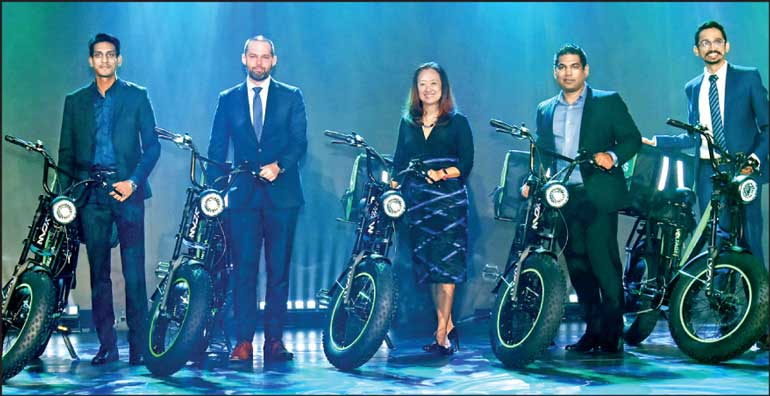 From left: Uber Eats Operations and Logistics Manager Kavindra Samarakoon, Uber Public Policy & Government Relations, Asia Pacific Region Senior Director Mike Orgill, US Ambassador Julie J. Cheng, Power and Energy Minister Kanchana Wijesekera and Uber Eats Interim General Manager Pivithuru Kodikara at the ceremonial launch of Uber eats e-Cycles on Thursday

– Pic by Ruwan Walpola
First 100 customised e-cycles handed over to delivery partners
Yet another Uber initiative to promote sustainability on its platform
Customised, delivery-friendly e-cycles: Range of 100+ km and top speed of 30 km/hr
Uber Eats, on Thursday brought on board 100 electric cycles on its platform.

The e-cycles launched as 'Voltage Edition' are manufactured by Lumala, the country's largest cycle manufacturer, and have been especially designed for deliveries. They have a range of up to 100 kilometres and top speed of up to 30 kilometres per hour. Uber Eats was the first platform to introduce cycle deliveries in Sri Lanka last year.
The e-cycles can cover longer distances than regular bicycles and are easier to maintain than traditional motorbikes.

The cycle battery charges in 4 hours: this makes delivery downtime minimum and reduces expenses versus fuel costs. By making it easier to cover a bigger delivery distance radius with lesser effort, delivery partners will be able to potentially make more deliveries and earn more. The initiative is a step forward towards Uber Eats' global vision of moving all trips to sustainable mobility by 2040.

The announcement was made at an event today where Uber Eats sponsored e-cycles worth Rs. 42 million for 100 most engaged delivery partners. Ninety of these delivery partners were previously using petrol-powered motorbikes while the other 10 were using regular bicycles. The company will also facilitate a 30% discount on the purchase of Lumala e-cycles and 15% discount on spare parts for delivery partners on its platform.

Power & Energy Minister Kanchana Wijesekera, graced the occasion as the Chief Guest, congratulated Uber Eats on its sustainability focus and gave away the e-cycles to select delivery partners. He was joined by the Guest of Honour, US ambassador to Sri Lanka Julie J. Cheng, along with Uber Public Policy & Government Relations, Asia Pacific Region Senior Director Mike Orgill and Uber Eats Sri Lanka Interim General Manager Pivithuru Kodikara among others.

Commenting at the event, Minister Wijesekera said: "Technology-led platforms led a paradigm shift by changing the way people move or order food online. Now, they should focus on another big change by promoting green mobility. We need to reduce dependency on fuel and lower our carbon emissions. Investing and building a green economy is one of our top priorities today. We welcome Uber Eats' decision to onboard electric cycles and are confident that the company will continue to push sustainable mobility in Sri Lanka."

Uber Eats had introduced cycle deliveries last year to reduce fuel dependency for delivery partners during the economic crisis. Today, cycle deliveries account for 10% of total deliveries for Uber Eats in Sri Lanka. With e-cycles, Uber Eats takes the next step towards sustainable mobility and paves the way for e-bikes and e-scooters on its platform in the future.

Uber Public Policy & Government Relations, Asia Pacific Region Senior Director Mike Orgill said: "We're committed to Sri Lanka and are continually bringing the best that Uber Eats has to offer to the country. After becoming the first platform to introduce cycle deliveries, we're onboarding customised e-cycles today in line with our global vision to move to sustainable mobility by 2040. We will soon add e-scooters and e-motorbikes for deliveries as part of our efforts to promote sustainable mobility in the country."

The Voltage edition e-cycles have been custom designed to compete with electric scooters and motorbikes. They are capable of covering over 100 kilometres on pedal assist on a single charge and can travel over 60 kilometres by throttle full electric cruising. To ensure safer deliveries at all times, they come fitted with day-time running lights and LED Projector and LED Tail Light for night-time visibility. The e-cycles come fitted with a separate storage at the back for delivery bags that are easy to mount and dismount and reduce motor sound on the roads by being virtually silent.

Recently, Uber Sri Lanka had announced a pilot with Sling Mobility to introduce two-wheeler EVs on its platform. The company will continue to adopt a partnership-led model and join hands with OEMs, fleet partners, EV infrastructure partners, among others to advance sustainable mobility in Sri Lanka.