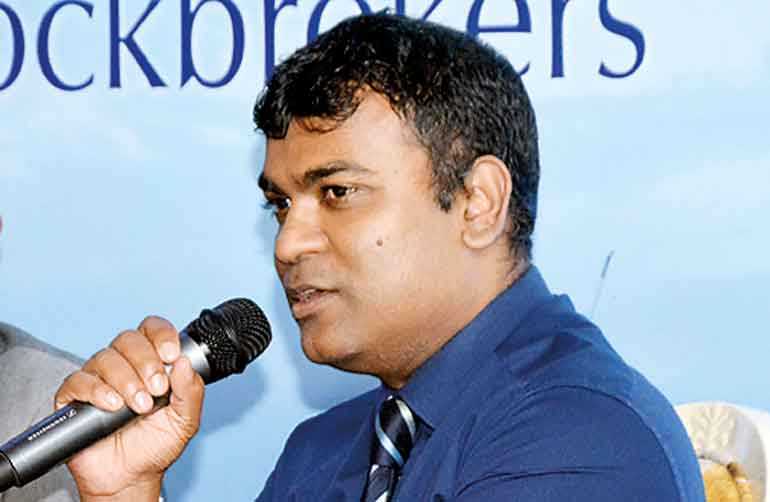 Teejay Lanka Plc Director Hasitha Premaratne - Pic by Upul Abayasekara
---
By Charumini de Silva
The trade tensions between the US and China present Sri Lanka's apparel industry with unique opportunities, particularly through value addition and transformational changes in cost structures underpinned by increased productivity and competitiveness, a top expert said.

"The trade war between the US and China is not a threat but an opportunity for the apparel industry," Teejay Lanka Plc Director Hasitha Premaratne said at an investor forum organised by Softlogic Capital Markets recently.


Highlights prospects in value addition, cost, export services
Says political will critical for SL's upcoming GSP+ review in 2021 and 2022
Insists FTA with India and China important


Noting that the price factor had always been a major concern for the industry, he pointed out that if Sri Lanka could take a 10 cent difference in the overall scheme of things and apply it to take the price down, the industry could take on a lot of orders as result of the trade tensions between the two economic giants.

"As a result of the trade tensions between the countries, US apparel importers who were sourcing their products from China are coming to Sri Lanka. So, if we take a transformational approach to the price while increasing productivity levels and attacking wastage, we can bring more orders at the prices that we are taking and still make a good margin," he added.

Premaratne said Sri Lanka had ample opportunity to further partner and penetrate regional markets with value additions.

"If you look at the value addition opportunity from a South Asian perspective, there is a great opportunity for Sri Lanka. India has a population of 1.2 billion, Pakistan has over 260 million and Bangladesh has 160 million people, which as a whole is bigger than China. Therefore, we can take all the resources available in the region, such as labour, low-cost manufacturing capabilities and cotton, to create value added products," he said.

As Sri Lanka's apparel industry was much more mature, he said the country had potential to be a controlling hub as it possessed an extremely high design capability, development capacity and human capital.

Premaratne also emphasised the need to look at export services, which had successfully contributed to narrowing down the country's trade balance through foreign remittances.

"Bangladesh's apparel industry is run by Sri Lankans. There are over 5,700 Sri Lankans, which brings in a lot of foreign exchange to the economy. This is another opportunity we need to look at where we bring certain orders to the country and outsource manufacturing to the region," he added.

With a review scheduled for the GSP+ tax benefit in 2021 and 2022, he said political will was the most crucial factor that would decide if Sri Lanka would continue to benefit from it.

"Duty definitely plays a big role in a price-sensitive industry. We hope there will be the continuation of a good relationship with the European Union through our political leadership, which can help us to continue the GSP+ duty benefits," he said.

Premaratne said that if the GSP+ review did not work in Sri Lanka's favour, it was critical for the country to divert its attention to India and China Free Trade Agreements (FTAs).

"It is important to look at FTAs positively and that will enable us to further expand through Asian growth," he pointed out.