Insists US and intl. community focused on assisting people of Sri Lanka irrespective of who is President or Prime Minister or which party is governing
Says it is time that all countries should consider extending support to Sri Lanka
Points to over $ 200 m in fresh US-related support to Sri Lanka
Stresses as long-term friend of Sri Lanka, US is keen to ensure democracy, good governance, growth enhancing reforms, positive constitutional changes, transparency and justice
Opines overtures by SL to seek Russian help is a sovereign decision but reminds SL of global ramifications
---
By Nisthar Cassim
---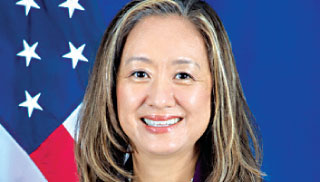 US Ambassador Julie Chung
---
The US yesterday dismissed the misconception that it and the broader international community are awaiting a regime change to extend larger support to crisis-hit Sri Lanka, saying they are focused more on helping people and not an individual or a party.

"There is misinformation that for some reasons the international community is holding back support to Sri Lanka at this time of need. The US supports the Sri Lankan people. So will most countries say that.

Our support and friendship is not based on who is seated on the presidential chair or Prime Minister's chair," said US Ambassador Julie Chung in her first on-the-record in person interaction with newspapers yesterday having assumed office four months ago.

"We want to promote and encourage good governance and positive reforms that reflect the voices of the people and transparency. This misconception that some somehow countries are waiting for a change of government before they give aid or assistance is inaccurate," emphasised the US Ambassador in response to a question posed by the Daily FT about perception that Sri Lanka had not got the desired support internationally when expectations were an outpouring of humanitarian and other assistance given the worst crisis in the country's history.

"It is not the Government Ministers or the elites who are standing in the fuel queues but the poorest of the poor. So our assistance and partnerships are to address the needs of the Sri Lankan people," she said.

"Much of the bridge financing issues etc. are based on the current economic and debt issues. International banks, governmental or not, will not give financing to a country in debt distress and needs deep debt restructuring.

"That is why an IMF program is the only way to make sure to 'get well, stay well' plan and to show confidence to international financial institutions and to governments that there are steps being taken to make institutions stronger, there is more transparency, stability and good governance," Ambassador Jung said.

However, she acknowledged that friendly countries cannot wait till the IMF deal finishes to help the Sri Lankan people because every day people are suffering in queues. "We will do whatever we can but it does not depend singularly on an individual or a party," she stressed.

The US Ambassador cited the recent declaration by President Joe Biden to grant $ 20 million in humanitarian assistance including for the most vulnerable segments of society, and fertiliser. This is on top of the US Development Finance Corporation committing $ 150 million for private sector led initiatives, US funding for enhancing the dairy industry, $ 80 million funding for renewable energy especially solar as well as recent commitment to technical support to the Treasury.

When questioned further that Sri Lanka's predicament has forced it to approach countries such as Russia for urgent help, the US envoy said. In terms of reaching out to Russia, the US Ambassador said Sri Lanka has to make its own decisions on how it deals with each country as part of diplomatic relations. "It is not up to the US or any other to tell Sri Lanka how to interact with other governments."

"Sri Lanka has to determine what it wants if they decide whether Russia is a reliable partner that actually brings benefits to its people," she said. "We understand Sri Lanka has fuel needs and the Government will go to any sources."

"The US does not have sanctions against third world countries on import of oil. We have imposed sanctions against import of oil from Russia to the US. However, Sri Lanka should be aware of us and take into consideration our sanctions globally on Russian banks, logistics, transportation and financing. Sri Lanka must also bear in mind the fact that President Putin has initiated a brutal, unprovoked and unjustified attack of a sovereign country – Ukraine.

During her interaction with the media, the US Ambassador also said that the IMF program and debt restructuring is in Sri Lanka's interest rather than the international community wanting the same. Tough measures and decisions are required to be made.

"It is time that all countries should consider extending support to Sri Lanka, not just Western countries," she said. In terms of debt restructuring, however, she insisted that all creditors as well as bond holders must be treated equitably. This means a level playing field and nobody including China should be treated differently.