Daily arrivals see improvement from 3,523 to over 5,000 visitors
India, Russia, UK emerge as top source markets so far in November
Analysts opine monthly target of 204,114 is unlikely as 50% more remaining
---
By Charumini de Silva
---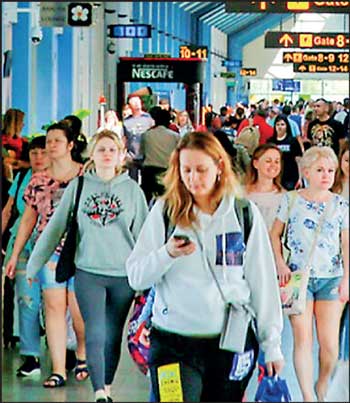 Sri Lanka's tourism sector is experiencing a striking rebound as the country welcomed over 100,000 tourists in the first 20 days of November, pushing the cumulative figure to over 1.2 million.

The daily average arrivals in November have also shown significant improvement, reaching 5,070 compared to 3,523 visitors in October with data revealing air and sea embarkations.

Sri Lanka Tourism anticipates a constant influx of tourists throughout November, with a total of 204,114 arrivals expected by the end of the month. However, analysts believe the monthly objective is unlikely to be met with only 10 days remaining.
India re-emerged as the top source market for tourist traffic during the first 19 days of November, with 18,760 visitors, accounting for 19% of the total arrivals pushing Russia to second place with 15,855 visitors or (16%). Germany with 9,166 (10%) takes the third position followed by the UK with 7,639 visitors (8%) and Australia with 5,597 visitors (6%), the latest data released by the Sri Lanka Tourism Development Authority showed.

Additionally, tourists from China, the US, France, Poland and the Czech Republic also contributed to the increasing visitor numbers in November so far.

Industry analysts opined the resurgence of the tourism industry signifies a positive outlook for Sri Lanka's economy, as the sector plays a pivotal role in attracting foreign exchange, creating employment opportunities, boosting the local economy and promoting cultural exchange.

Looking at the year-to-date figures, India remains a strong contender as the leading source market for Sri Lanka, with an impressive cumulative number of arrivals reaching 247,292. Russia closely follows with 158,784 visitors and the United Kingdom with 106,936 visitors.

Sri Lanka Tourism is confident of attracting 1.55 million tourists and earning $ 2.5 billion.

During the first 10 months of the year, earnings have totalled $ 1.59 billion. It is a 56% year-on-year (YoY) growth compared to the same period in 2022. October earnings stood at $ 136.70 million.