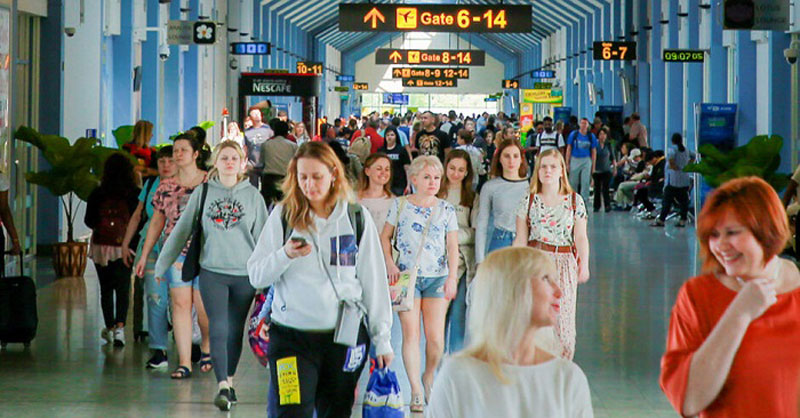 YTD figure highest since 2019
First 15 days of November welcome 74,664 tourists
Records highest daily arrival at 7,520 on 13 Nov., daily average is almost at 5,000
India, Russia, UK have emerged as top source markets so far in November
---
In a remarkable feat for Sri Lanka's tourism sector, arrivals surpassed 1.2 million sparking optimism about meeting the ambitious target of 1.55 million visitors by the end of the year.

Sri Lanka welcomed 74,664 tourists over the first 15 days of November, bringing the total number of visitors to over 1.2 million, marking the highest arrival tally in three years.

"This milestone is particularly significant as it illustrates a robust recovery post-pandemic, reflecting positively on Sri Lanka's efforts to revive its tourism industry," Tourism Minister Harin Fernando told the Daily FT.
He expressed confidence in attracting 1.55 million tourists and earning $ 2.5 billion by the end of the year.

Sri Lanka Tourism has set a target of 204,114 arrivals for November, with 63% of it already achieved and the industry remains confident in reaching the monthly goal by the end of the month.

The country also saw the highest daily arrival at 7,520 on 13 November while the daily average is almost 5,000. The daily average in October stood at 3,523 and has now risen to 4,978 visitors with data revealing air and sea embarkations.

The Minister said the surge in numbers indicates a growing interest in Sri Lanka as a preferred travel destination.

India emerges as the top generating market for November, contributing 13,491 tourists, followed by Russia with 12,580 visitors, Germany with 7,801, the UK and Australia with 4,621 tourists.

A broader look at the year-to-date (YTD) data reveals India's stronghold on the market, constituting 20% of the total arrivals with 242,023 tourists. Russia follows with 13% (155,509), the UK 9% (105,321), Germany 7% (84,262) and China 5% (56,844).

Industry analysts said the arrival of cruise ships, resumption of charter flights and promotional activities were the key reasons for the surge in arrival trends in November.

During the first 10 months of the year, earnings have totalled $ 1.59 billion. It is a 56% year-on-year (YoY) growth compared to the same period in 2022. October earnings stood at $ 136.70 million.

Sri Lanka Tourism has set an ambitious target of welcoming 2.5 million tourists and earning $ 4 billion in income in 2024.