By Charumini de Silva

Tourist arrivals from Russia have hit an all-time high in 2019, with its flag carrier Aeroflot's expansion of services to Colombo playing a key part.

As per provisional data, Russian tourists last year amounted to around 86,549 and surpassed the previous highest of 69,718, achieved in 2014. In comparison to 2018, last year figure was a 34% increase.
As per the first 11 months data of 2019, Russian tourist arrivals were 68,990, up by 29.6%. In November, the figure jumped 79.7% to 14,537 and in December it hit a record of 17,559.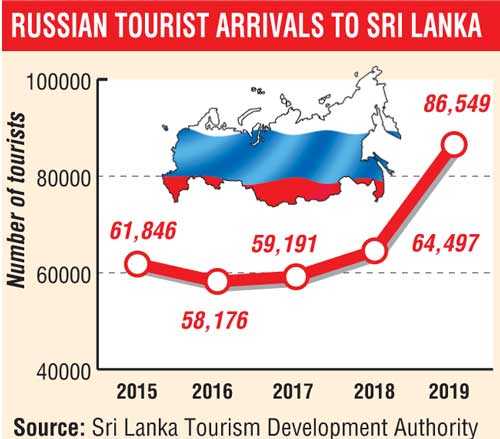 "The airline has been doing really well since they resumed operations following the Easter Sunday attacks. There has been a steady growth in the number of Russian tourists coming to Sri Lanka," Euro Asia Tours Ltd. Managing Director Passenger Sales Agent for Aeroflot-Russian Airlines Sam Wickramasinghe told the Daily FT.

He said the five weekly flights using an Airbus A330 aircraft under the winter schedule effective from October through end March this year has been extremely lucrative.

"We have over 300 passengers coming to Sri Lanka in each flight. This winter season has been really good since Aeroflot resumed operations in July 2019," Wickramasinghe added.

Although unable to provide figures in terms of forward bookings for the rest of the winter season, Wickramasinghe said that the numbers are increasing with the improved security situation and the general positive outlook of the Sri Lankan public.

The airline, which stopped flights to Colombo a decade ago, re-introduced five weekly flights between Moscow and Colombo in October 2018, but stopped operations for three months post Easter Sunday attacks and recommenced in July 2019.

Following the Easter attacks, tourist arrivals from Russia slumped by 33.2% to 844 in May. It then gradually recovered from 711 Russian tourists in June to 1,162 arrivals in July, up 11.9% compared to the same period in 2018. Subsequent months saw arrivals up between 13.5% and 86.1% in comparison with 2018 levels.

He pointed out that the nine-hour flight has certainly improved inbound tourism from Russia to Sri Lanka and will also be a major boost for business travel to the island country in future.

Aeroflot also promotes Colombo as a vital transit destination, Wickramasinghe added.