By Charumini de Silva
---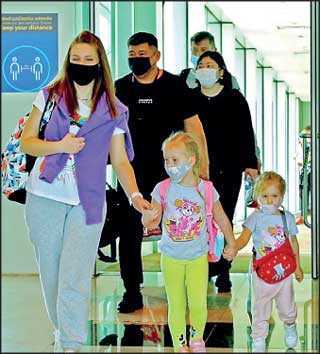 Tourism industry stakeholders on Thursday lamented that the Government has neglected the sector employees, many of whom have still not been vaccinated through the national Covishield vaccination program, despite the sector being identified as a priority.

"The authorities have not informed of a timeline for the vaccine for the industry yet and all stakeholders are desperately waiting," industry sources told the Daily FT.

In February, President Gotabaya Rajapaksa said priority would be given to tourism industry personnel, including hotel employees, tour guides and tourist drivers, under the ongoing COVID vaccination program.

"Although the hotel industry staff, among other tourism staff, have been categorically informed that they will be given priority in the national vaccination drive, it is very unfortunate that employees have had little or no access to the vaccination rollout so far," The Hotels Association of Sri Lanka (THASL) President Sanath Ukwatte told the Daily FT.
Since the start of the pandemic the hotel industry has supported frontline healthcare workers, offering temporary accommodation facilities, free meals and later converting their hotels to quarantine facilities to assist Government efforts.

"As a service industry that takes care of people, the hotel industry has taken all steps to support and strengthen the country's efforts to fight COVID-19. Our hotel staff are regularly exposed to the virus and we must recognise their significant contribution to the nation during this health crisis, whilst supporting the community at large," Ukwatte stressed.

Sri Lanka Association of Inbound Tour Operators (SLAITO) President Thilak Weerasinghe, said they expect the vaccine will be distributed to the industry stakeholders in the next couple of weeks, though no official announcement has been circulated.

"We all have been following strict guidelines issued by health authorities and have continued operations implementing the necessary protocols outlined. Thereby, prioritising the sector stakeholders with access to the vaccine will provide another level of protection to the country's commitment to containing the spread of the virus in the region, and it will send a positive signal to the world that Sri Lanka is safe to travel to," Weerasinghe noted.

Both THASL and SLAITO reiterated their commitment to support the Government, as the country continues to fight the pandemic, and called on the Government to fast-track the vaccination program to tourism sector stakeholders with immediate effect.