Tea industry veteran Rohan Fernando has been appointed as the new Chairman of Sri Lanka Telecom PLC.
Previously Nimal Perera (one time Chairman of Urban Development Authority) was announced as the likely SLT Chairman. However the Government has decided to give the Chairmanship of Hilton Colombo-owning company Hotel Developers Ltd., to Perera.

Rohan has over 40 years of experience in the tea industry and has been successful in innovation, promoting and marketing the traditional beverage of tea in many variants. He is the creator of the global tea brand HELADIV registered in 40 countries.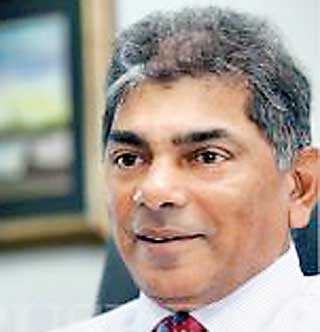 Rohan Fernando
He began his career as a Tea Taster at Carson Cumberbatch & Co., Ltd. In 1975 and joined Brooke Bond Ceylon Limited and served as a Manager in the Tea Department from 1979 to 1989 with a secondment of one year as a Tea Trader, at its headquarters in the United Kingdom in 1982. In 1990, he established HVA Lanka Exports as a joint venture with the Dutch agricultural conglomerate HVA Holdings bv. and expanded the organisation to include several subsidiary companies, HVA Foods PLC., HVA Beverages & HVA Holdings. He is also the Chairman and CEO of the HVA Group and Chairman of HVA Farms (Pvt) Ltd., an organic agro-resort in the NWP. He is also an Independent Director of Ceylinco Insurance General from 2016 to date.

He served on the Colombo Tea Traders Association as a member and also as a Director on the Sri Lanka Tea Board and as an Independent Director of the Sri Lanka Industrial Technology Institute from 2015 to 2016.

Rohan functioned as the President of the National Chamber of Exporters in 2008 and 2009. He served as the elected Chairman of the Tea Exporters Association of Sri Lanka from 2014 to 2016. He is a National award winner since 1997 at the NCE Exports Awards and was selected "Exporter of the Year" winning Gold awards in 4 categories, in 1999. Rohan was also awarded "Sri Lankan Entrepreneur of the year 2015," winning the National Gold award and "Sri Lankan Entrepreneur of the year 2015," with a Provincial Gold award.

Rohan was also a multi-disciplined sportsman at school who represented and captained Sri Lanka Rowing. He currently heads the Sri Lanka Amateur Rowing Association and is also a senior member of the National Olympic Committee. Rohan hails from Nainamadama, Wennapuwa and attended St Thomas College, Gurutalawa and Mt Lavinia for his formal education.