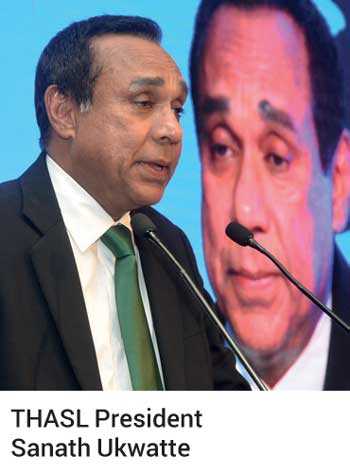 The Hotels Association (THASL) President Sanath Ukwatte last week called for private sector-led marketing along with tax reforms as key for Sri Lanka to harness its fuller potential in tourism.

Speaking at the 54th Annual General Meeting, Ukwatte made a compelling case for both suggestions citing global examples with regard to private sector-driven marketing.

Noting that the industry is yet to recover from the unfortunate Easter Sunday tragedy, Ukwatte said it was likely that it will take another year for tourism to get back to where it was.

"A once thriving industry, with everything going for it, is today in the throes of a crisis," Ukwatte told the AGM at which Prime Minister Ranil Wickremesinghe was the Chief Guest and Emirates Airline President Tim Clark delivered the keynote.

"Our Association is strongly of the opinion that we can get ourselves out of this crisis situation if the Government and the industry collectively, move swiftly and decisively, on our road map to recovery," THASL Chief emphasised.



Ukwatte said the importance of tourism industry to the national economy is immense and must not be underestimated. "We are the low hanging fruit for Sri Lanka's economic revival. Therefore, we all must act to protect and grow this industry," he added.

Expressing industry's regret for the delay in proper global PR and marketing campaign post-Easter Sunday attacks, Ukwatte said every single tourism service provider registered with the Tourism Development Authority, makes a financial contribution towards the promotions and marketing of Sri Lanka as a tourism destination.

"Yet, despite over a decade since the end of Sri Lanka's civil war, these funds remain unutilised, wasted in a bureaucratic nightmare that consecutive Governments have failed to overcome. Every minute that we fail to launch this campaign has an opportunity cost for Sri Lanka. We lose potential tourists, potential revenue streams and potential investments," he said.

It is in light of this realisation, following a decade of Government inaction THASL Chief proposed the need to reform the Promotions Bureau and to transfer the control of the promotions fund to the Tourism Joint Council in a bold, new and ambitious public-private partnership.

"We are convinced that the industry-led Tourism Joint Council will be better suited to carry out the responsibilities of promotions as opposed to a Promotions Bureau tied up in bureaucratic red tape. The Joint Council represents all the actors in the tourism industry that directly impacted by consecutive Government failures in launching a promotion campaign.

"A fund that has remained idle in Government hands for a decade is evidence that these monies are better off in the hands of those who contribute towards it and are directly impacted by how such money is used," THASL Chief pointed out.

Ukwatte said many countries in the world has handed over control of tourism promotions funds to the private sector. It's the trend today. In Germany, for example, 70% of the Tourism Promotional Funds come from the Government and 30% from the private sector. Yet, 100% of the administration of the fund is given to the private sector.

THASL is proposing a similar solution for Sri Lanka and requested the Government to bring forward and for Parliament to approve amendments to the Tourism Act that will:
Transfer control and direction over the Sri Lanka marketing and promotions fund to the Tourism Joint Council
Impose enhanced reporting obligations by the Tourism Joint Council to the Promotions Bureau and Tourism Development Authority to ensure transparency and accountability for the utilisation of the promotions fund
"We are confident that by giving control and ownership over the country's marketing to the industry itself, we can hire the right talent and make decisions that will respond to challenges and capitalise on new opportunities as they emerge, without being burdened by bureaucracy," Ukwatte stressed.

During his address at the THASL AGM its President also stressed that tourism is one of the highest taxed industries in the country with 20% tax on turnover alone and after paying service charge.

"Exorbitant licensing levies and unfair local government taxes that only target hotels, we become totally uncompetitive. This is in stark contrast to the top-line tax paid by our competitors in regional tourism markets, which are only between 5-10% of revenue," he revealed.

Ukwatte whilst welcoming the reduction in VAT to 7% as part of support to manage the Easter Sunday setback, expressed the hope that the new rate can be permanent. The exemption of Nation Building Tax (NBT) was also welcomed.

However THASL President pointed out that by limiting the exemption from NBT only to foreign currency receipts, the Government has ignored that most spending by tourists in Sri Lanka is conducted in rupees and not foreign currencies.

He said this is because:
The rupee is the legal tender in Sri Lanka
Industry is prohibited by law from charging and accepting payments in foreign currencies
Tourists have already converted their foreign currencies to rupees before they spend at our establishments
He said local travel agencies that take most of inbound bookings have advised that it's against the monetary law for local companies to transact in foreign currencies. Based on this premise, travel agencies refuse to pay hotels in the foreign currencies that they received such payments in. As hotels are compelled to receive their monies in rupees, this creates an NBT liability. "This means that we, the hotel industry, are denied the fruits of our own trees," Ukwatte lamented.

The NBT exemption for hotels, by limiting it only to foreign currency receipts, he said, is ignorant of the fact that tourism is an invisible export and not a visible export such as textiles or tea.

THASL requested the Government to give more clarity on this issue and to either:
Classify all receipts by the hotel industry as NBT exempt (irrespective of currency), or
To liberalise the monetary law so that we are able to accept payments in foreign currencies, in order to fully benefit from the NBT exemption
Ukwatte emphasised that reformed taxation must not only be limited to the income of hotels. "We believe, taxation must be rational and sensible in all other inputs for tourism. This requires reducing exorbitant consumption taxes on food, beverages, alcohol (especially wine), restaurant, bar and hotel licensing and even construction inputs."

THASL President also urged the Government to aggressively pursue tax reduction and fast track it in areas that can boost the sectors that service the tourism industry, such as restaurants, bars and entertainment.

Ukwatte also appeal to the Government to introduce a tourism master plan for sustainability and to develop that master plan with all stakeholders in the industry, including airlines, travel agents, hotels and the public.