Says PCOI used to sling mud at UNP
Says phone calls made to Aloysius to complete bond scam book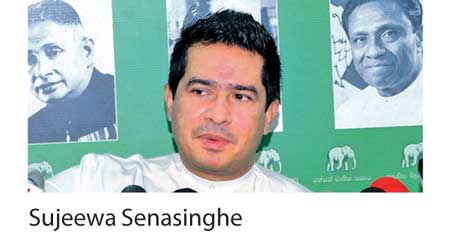 By Skandha Gunasekara

A defensive International Trade State Minister Sujeewa Senasinghe yesterday said that he was disappointed with President Maithripala Sirisena for using the Presidential Commission of Inquiry (PCOI) into the Central Bank Bond scam as a tool to sling mud at the UNP.

Addressing a media briefing at the UNP headquarters, the Minister said the PCOI could have wrapped up its inquiry in three months as was stipulated but was extended a further three months to bring the UNP into disrepute.

"We helped elect this president for the promises he made and we made sacrifices. I'm very disappointed with the President. He is using the Commission to sling mud at our party," the Minister said, claiming that it was a conspiracy by the SLFP.

He also demanded to know why similar PCOIs have not been set up to investigate other alleged financial scandals.
"Where are the presidential commissions to investigate the MIG deal, the SPECTRUM deal?"

The State Minister also took the opportunity to respond to allegations against him pertaining to the controversial Central Bank bond scam.

He asserted that he his phone conversations with Perpetual Treasuries chief Arjun Aloysius had been to gather details for his book on the bond scam.

"Others may have brought up the issue of parliamentary privileges being violated but I never had an issue. My conscience is clear. I have told President Sirisena that I had spoken to Aloysius in order to gather information so that I could complete my book on the bond scam," he said, adding that he had written to the PCOI volunteering to appear before the Commission.

The Minister went on to say that the issue with the bond scam originated from the period of the previous regime, during the tenure of former Central Bank (CB) Governor Nivard Cabraal. He said that in 2008 the Central Bank, on the orders of the then Minister of Finance Mahinda Rajapaksa, had initiated the direct placement system to sell CB bonds at a low interest rate. From 2008 to 2015 the direct placement system was carried out by Cabraal even though there are no board papers to certify such a change.

"The direct placement system, however, can only be operated for short periods of time as it can have serious negative effects on the country's economy. Consequently, in 2015 Prime Minster Ranil Wickremesinghe requested that the CB revert to the auctioning system to sell bonds as that is the norm even in other countries," he said and pointed out that when he and the Deputy Minister had presented the facts to the Attorney General, the latter had dismissed the facts remarking that they were "irrelevant".

The Minister noted that the Supreme Court had given a ruling that there were no losses to the State from the Central Bank bond deal as claimed earlier.

"Even President's Counsel Prasanna Jayawardana has stated that there are many ways to calculate the losses and that such quoted losses were inaccurate."

When the media inquired as to whether he agreed with the appointment of Arjuna Mahendran as the Central Bank Governor, the Minster said: "No, I did not agree with that appointment. In fact I was one of the few who pointed out the conflict of interest in appointing him. If I was the Prime Minister I would not have appointed him."