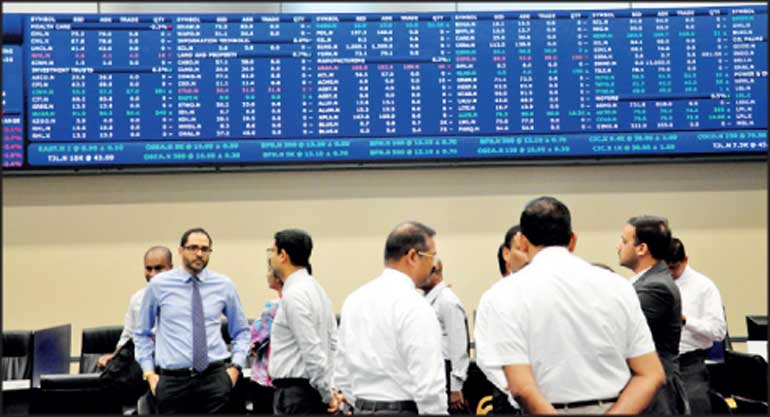 The Colombo stock market yesterday ended the post-Budget week suffering a loss of 2% amidst poor investor sentiment-led lacklustre trading.

The benchmark ASPI lost 259.17 points (2.38%) during the week while the S&P SL20 lost 84.85 points (2.75%). The dip was as opposed to gains of 0.7% and 1.7% by the indices respectively.

Daily turnover this week averaged Rs. 834 million, down from Rs. 1.6 billion last week.

Asia Securities said the market on Friday ended the week on a downbeat note as the indices closed in red for a fourth consecutive session with the ASPI declining 49 points and the S&P SL20 index edging 11 points lower.



BIL (-2.0%), LIOC (-1.7%), NTBN (-2.0%), CALT (-3.5%), HHL (-2.0%), SAMPN (-1.5%), DIAL (-3.2%), and CFVF (-2.6%) recorded price losses while DIST (+8.0%), MELS (+1.2%), LMF (+4.5%), and SLTL (+1.3%) provided support to the ASPI during the session. Overall, 54 stocks closed higher while 95 ended with losses.

Turnover on Friday was Rs. 874 million down from Rs. 1.1 billion on Thursday and was led by CARS (Rs. 134 million), MELS (Rs. 131 million), and DIST (Rs. 111 million). Off-board transactions accounted for 11.3% of turnover with 4 crossings in CARS at Rs. 98 million.

Foreigners recorded a net outflow of Rs. 42.8 million. Net foreign buying topped in CARS at Rs. 13.9 million and selling topped in MELS at Rs. 25.3 million.

First Capital said the ASPI closed in the red zone, recording losses for the fourth consecutive day amidst weak investor participation while a cautious stance was adopted ahead of the upcoming monetary policy review.

The Index took a bullish note during the early hours of trading predominantly led by MELS and DIST. This surge was notably influenced by DIST's announcement of a Sales and Purchase Agreement to acquire shares of Heineken Lanka Ltd., contributing to an 8% increase in DIST's stock price. Additionally, investor interest in LMF was evident following the share split announcement. However, by mid-session index was on a steep downtrend led by profit taking on selected banking counters (SAMP, SEYB and NTB) and closed at 10,631, losing 49 points.

NDB Securities said high net worth and institutional investor participation was noted in Carson Cumberbatch. Mixed interest was observed in Melstacorp, Distilleries and Lanka Milk Foods whilst retail interest was noted in Browns Investments, SMB Leasing and Ambeon Capital.

The Food, Beverage and Tobacco sector was the top contributor to the market turnover (due to Carson Cumberbatch, Melstacorp, Distilleries, Lanka Milk Foods and Browns Investments) whilst the sector index edged down by 0.10%.

The share price of Carson Cumberbatch edged up by 25 cents to Rs. 250. The share price of Melstacorp gained 90 cents to Rs. 78.70. The share price of Distilleries moved up by Rs. 2 to Rs.

27. The share price of Lanka Milk Foods recorded a gain of Rs. 9.50 to Rs. 218.75. The share price of Browns Investments declined by 10 cents to Rs. 4.90.

The Banking sector was the second highest contributor to the market turnover whilst the sector index decreased by 0.71%.