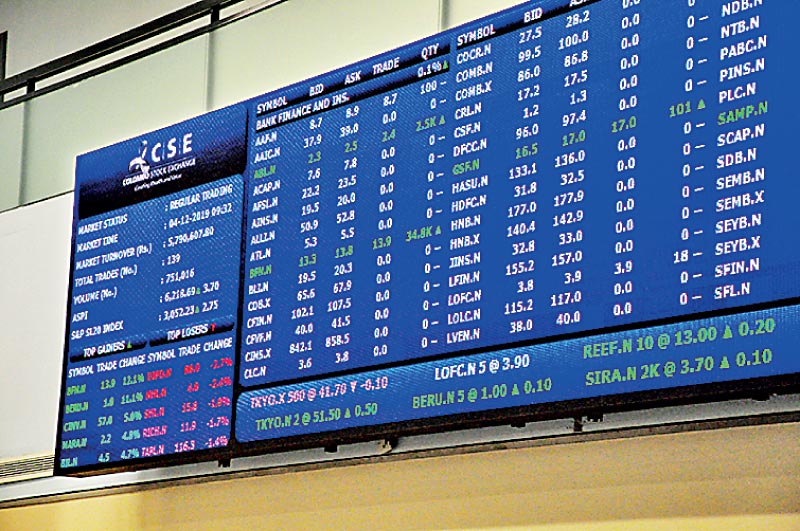 ---
Investor sentiment in the Colombo stock market recovered yesterday to close on the up along with a welcome yet modest net foreign inflow, though turnover failed to match the rebound.

Both stock prices gained by 0.3% whilst turnover amounted to only Rs. 1.47 billion involving 84 million shares.

First Capital said the bourse closed on a positive trajectory, reversing the previous session's loss.

"ASPI displayed a steep upward momentum during the initial hours of trading and thereafter, stabilised to a sideways movement throughout the session, closing at 7,564, gaining 22 points," First Capital added.

It said turnover was relatively lower compared to previous sessions, recording a nearly two-week low led by the Materials sector followed by the Capital Goods sector, both accounting for a joint contribution of 52%.

Asia Securities said the ASPI reached a high level of 7,574 points following a positive start during the early hours and remained in the narrow range of 7,560-7,570 during the rest of the session.

Turnover declined however, remaining at moderate levels, led by HNI and retail activity.

Asia said the Materials, Capital Goods, Food, Beverage and Tobacco and Diversified Financials sectors led activity, collectively accounting for 76.8% of turnover.

It said foreigners recorded a net inflow of Rs. 21.4 million, while their participation increased to 4.6% of turnover (previous day 3%). Estimated net foreign buying topped in Hemas at Rs. 27.8 million and net foreign selling topped in CTC at Rs. 13.5 million.

Year-to-date (YTD) net foreign outflow however remains at Rs. 25.8 billion.

NDB Securities said the ASPI closed in green as a result of price gains in counters such as Melstacorp, Lion Brewery and Distilleries.

It said high net worth and institutional investor participation remained subdued for the day. Mixed interest was observed in Prime Lands Residencies, Royal Ceramics and Melstacorp, whilst retail interest was noted in SMB Leasing non-voting, SMB Leasing and Alumex.

The Materials sector was the top contributor to the market turnover (due to Alumex and Dipped Products), as the sector index gained 1.04%. The share price of Alumex recorded a gain of Rs. 0.40 (2.96%) to close at Rs. 13.90. The share price of Dipped Products declined by Rs. 0.40 (0.76%) to close at Rs. 52.20.

The Capital Goods sector was the second highest contributor to the market turnover (due to Royal Ceramics), with the sector index edging up by 0.11%. The share price of Royal Ceramics decreased by Rs. 0.60 (1.57%) to close at Rs. 37.70.

Melstacorp and LOLC Holdings were also included amongst the top turnover contributors. The share price of Melstacorp gained Rs. 2.10 (4.47%) to close at Rs. 49.10. The share price of LOLC Holdings moved down by Rs. 1.75 (0.46%) to close at Rs. 376.

Separately, CT Holdings announced a final dividend of Rs. 2.90 per share.