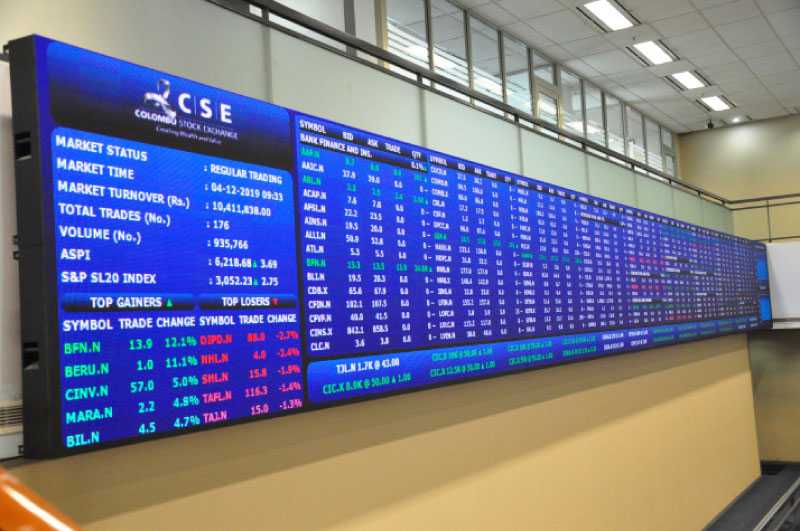 ---
YTD net foreign outflow tops Rs. 47 b mark
---
The Colombo Stock Market showed resilience yesterday with both indices finishing on the up after a rocky day, with profit taking and turnover crossing the now standard Rs. 3 billion mark.

The All Share Price Index (ASPI) managed to close up 2 points, whilst the more active S&P SL20 Index gathered more momentum with a further gain of 24 points or 1% on top of a similar increase on Tuesday. Turnover was Rs. 3.06 billion, marginally lower compared to Rs. 3.6 billion the previous day.

First Capital said the Bourse managed to eke a gain overruling the continuation of profit-taking from Tuesday's session. "Index experienced a V-shaped movement recording its intraday low of 6,032 during mid-day," it added.

NDB Securities said the ASPI edged up as a result of price gains in counters such as John Keells Holdings (JKH), Dialog Axiata and Distilleries.

It said high net worth and institutional investor participation was noted in Dipped Products and JKH. Mixed interest was observed in Expolanka Holdings, Hayleys and Haycarb, whilst retail interest was noted in Access Engineering, R.I.L. Property and Lanka Walltiles.

Materials sector was the top contributor to the market turnover (due to Dipped Products and Haycarb), whilst the sector index gained 0.58%. The share price of Dipped Products increased by Rs. 5.80 (1.75%) closing at Rs. 336.60, whilst foreign holdings decreased by 1,040,739 shares. The share price of Haycarb appreciated by Rs. 15.80 (3.48%) to close at Rs. 470.10.

Capital Goods sector was the second highest contributor to the market turnover (due to Hayleys and JKH), whilst the sector index increased by 0.67%. The share price of Hayleys moved down by Rs. 1.10 (0.29%) to close at Rs. 383.50. The share price of JKH recorded a gain of Rs. 2.70 (1.95%) to close at Rs. 140.90.

Expolanka Holdings was also included amongst the top turnover contributors, whilst the share price of Expolanka Holdings lost Rs. 0.50 (1.92%) to close at Rs. 25.50.

The market also saw year-to-date (YTD) net foreign selling cross the Rs. 47 billion mark with a net selling of Rs. 400 million yesterday, up from Rs. 223 million on Tuesday.