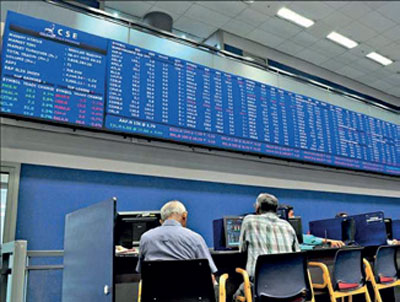 The Colombo stock market remained bearish with investor sentiment mixed amid low turnover.

The All Share Price Index dipped by nine points, while the S&P SL20 gained by five points. Turnover was Rs. 2 billion, involving a low 98.5 million shares. Asia Securities said that, despite staging a healthy recovery during the session, the indices edged lower due to price declines in index-heavy counters such as BIL, LOLC, and CTC.

It said turnover was moderate as retail and HNI investors continued with a 'wait-and-see' approach ahead of the Monetary Policy Review meeting which is due this week.

"Following a 34-point gap-up, the ASPI reached an intra-day low of 9,632 in early trading. The index gradually recovered in the second half of the session and hovered around the 9,670 level before witnessing another pullback during closing hours. As such, the ASPI ended marginally lower paring most of its losses cushioned by price gains in CLC, EXPO, and COMB," Asia said.

Overall, 77 stocks posted gains during the session while 111 stocks closed lower.

Asia also said foreigners recorded a net outflow of Rs. 28 million while their participation declined to 1.5% of turnover (previous day 3.7%). Estimated net foreign buying topped in EXPO at Rs. 2.7 million and net selling topped in Citrus Waskaduwa at Rs. 16 million.

First Capital said the bourse closed lower and remained in the red zone during the volatile trading session, while recording a two-and-half-week low turnover.

"In the beginning, index hit an intraday high of 9,684 as soon as the market opened and eventually reached a low of 9,630. Subsequently, it displayed massive volatility throughout the session over the looming uncertainty. Following an unstable trading session, a selling spree emerged, dragging the index down, losing nine points while closing at 9,640," First Capital added.

Turnover was generated by a joint contribution of 36% from the Capital Goods sector followed by the Materials sector.

NDB Securities said the ASPI edged down as a result of price losses in counters such as Browns Investments, LOLC Holdings and Ceylon Tobacco Company.

It said high net worth and institutional investor participation was noted in The Colombo Fort Land & Building and Hatton National Bank. Mixed interest was observed in Expolanka Holdings, Royal Ceramics and The Colombo Fort Land & Building, while retail interest was noted in Browns Investments, Agstar and Waskaduwa Beach Resort. Foreign participation in the market activity remained at subdued levels with foreigners closing as net sellers.

The Capital Goods sector was the top contributor to the market turnover (due to Royal Ceramics), while the sector index lost 0.46%. The share price of Royal Ceramics declined by 10 cents (0.21%) to close at Rs. 47.90.

The Materials sector was the second highest contributor to the market turnover (due to Agstar), while the sector index decreased by 0.71%. The share price of Agstar recorded a loss of 90 cents (7.50%) to close at Rs. 11.10.

Expolanka Holdings, Browns Investments and Hatton National Bank were also included among the top turnover contributors. The share price of Expolanka Holdings increased by Rs. 1.25 (0.66%) to close at Rs. 191.50. The share price of Browns Investments lost 10 cents (0.93%) to close at Rs. 10.60. The share price of Hatton National Bank moved up by 25 cents (0.17%), closing at Rs. 149.