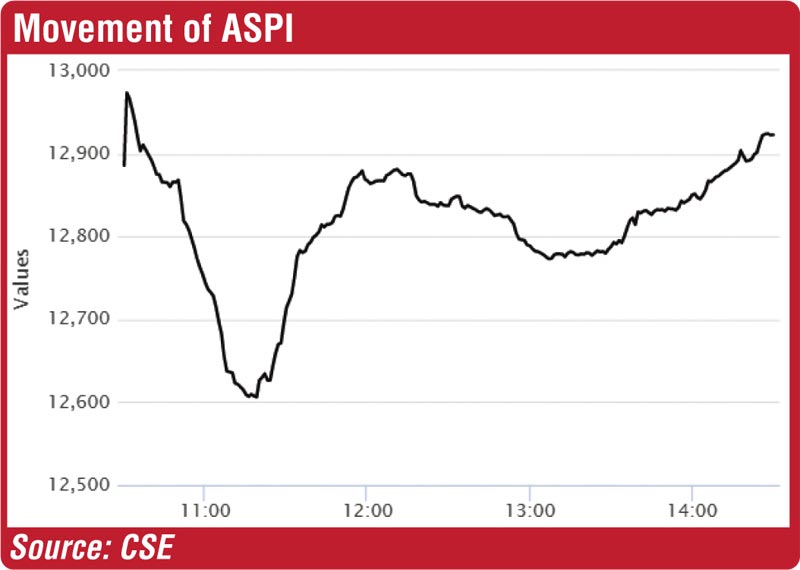 The Colombo stock market ended a tumultuous week suffering the sharpest falls in recent months though late rally yesterday lifted hopes of investors.

During the week, the ASPI and S&P SL20 lost 3.80% and 4.87% respectively, whilst recording an average daily turnover of Rs. 8.77 billion.

Yesterday the dip was marginal thanks to renewed buying by bargain hunters. Both indices shed only 20 points and turnover was Rs. 6.4 billion involving 239 million shares.

Asia Securities said the indices trimmed most of their steep losses recorded earlier in the session on Friday owing to a marginal recovery in EXPO (+1.9%) and sharp price gains recorded by AAIC (+19.8%).

"Despite a gap-up opening of 87 points at 12,973, the ASPI plunged 365 points in the first hour of trading to reach an intra-day low of 12,607. Following this, the index saw a brief respite surging more than 272 points to touch 12,880, however again turned downbeat due to selling pressure in actively traded stocks," Asia said. "After the selling pressure eased, the index regained ground and saw some positive momentum towards the latter part of the session as retail and HNI investors capitalised on price declines to accumulate positions in fundamentally strong stocks," it said.

The ASPI picked up around 93 points in the last hour to close at 12,863 (-23 points). Among the negative contributors to the index, LOLC topped with -16 points, followed by SFCL (-10 points) and MELS (-9 points). Turnover was led by EXPO (Rs. 1.86 billion) AAIC (Rs. 788 million) and BIL (Rs. 477 million) The overall breadth of the market continued negative with 89 price gainers and 132 decliners.

Asia also said foreigners recorded a net outflow of Rs. 45.4 million while their participation declined to 2.3% of turnover (previous day 3.0%). Net foreign buying topped in EXPO at Rs. 33 million and selling topped in JKH at Rs. 42.7 million.

First Capital said the Bourse ended in the red territory for the fourth consecutive day as investors traded with a sceptical nature despite solid earnings in selected counters while recording a modest turnover.

"The Index opened peaking to an intraday high of 12,982 but soon dipped with massive volatility. Subsequently, index gathered strength and moved on a gradual recovery path but continued to see-saw from green to red over wavering investor confidence and closed for the day at 12,863 losing 23 points with counters such as LOLC and SFCL negatively contributing to the ASPI dip," First Capital said adding turnover was led by a joint contribution of 45% from the Transportation sector and Food, Beverage and Tobacco sector.

NDB Securities said high net worth and institutional investor participation was noted in Expolanka Holdings, Vallibel One and Royal Ceramics. Mixed interest was observed in Softlogic Life Insurance, ACL Cables and LOLC Holdings whilst retail interest was noted in SMB Leasing voting and non-voting and Browns Investments.

It said the Transportation sector was the top contributor to the market turnover (due to Expolanka Holdings) whilst the sector index gained 1.94%. The share price of Expolanka Holdings increased by Rs. 7 (1.95%) to close at Rs. 366.

Food, Beverage and Tobacco sector was the second-highest contributor to the market turnover (due to Browns Investments) whilst the sector index edged up by 0.11%. The share price of Browns Investments moved down by 10 cents to close at Rs. 15.70.

Softlogic Life Insurance, ACL Cables and LOLC Holdings were also included amongst the top turnover contributors. The share price of Softlogic Life Insurance gained Rs. 29.50 (19.80%) to close at Rs. 178.50. The share price of ACL Cables recorded a gain of Rs. 2.25 (1.88%) to close at Rs. 122. The share price of LOLC Holdings declined by Rs. 28 (2.33%) to close at Rs. 1,176.