Placed 6th in CondeNast Traveller 2020 Readers' Choice Awards
SIA tops survey followed by Emirates and Qatar
---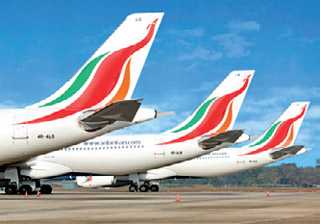 SriLankan Airlines has been voted among Best International Airlines in the popular and influential CondeNast Traveller 2020 Readers' Choice Awards.
Sri Lanka's national carrier was placed sixth in the survey in which Singapore Airlines came on top followed by Emirates and Qatar Airways.

The CondeNast said SriLankan has built a strong following among fliers who appreciate its comfy business class seats, attentive cabin crew and flavourful in-flight meals.

"It's a top choice for travellers headed not only to the island nation it calls home, but to destinations in the region like the Maldives, where it's the largest foreign airline. With a fleet of 26 planes, it's not huge, but more passengers are discovering it, thanks to its membership in the Oneworld alliance," the magazine added.

It said with 2021 expected to be the year of the comeback for long-distance international travel, readers' choice of airline will be more crucial than ever.

It said the top global airlines on 2020 list this year made the cut by getting it right, in everything from creature comforts to health and safety – all top of mind as we navigate the new rules of flying.

Notably, more than two-thirds of these winners hail from Asia-Pacific and the Middle East, where airlines have long set the bar for luxury aloft, whether one is flying a two-hour hop or a 14-hour marathon run.

On SIA it said Singapore is known for setting records – from holding the number one spot on our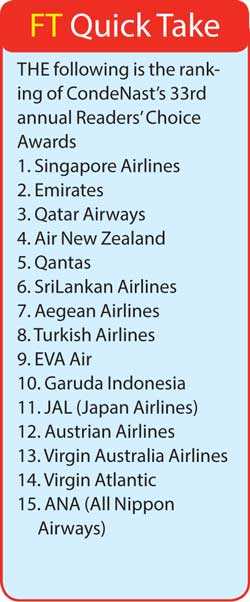 Readers' Choice Awards for more than three decades, to winning the title for world's longest flight, a 19-hour nonstop between New York and its Changi Airport hub via its fleet of all-premium Airbus A350s.

When service resumes on that and other super-long routes, fliers will again savour what makes this airline a perennial favourite: It's an industry leader in seat comfort, in-flight service, and reliability. It also gets praise for continually upgrading its product in all classes, including a new farm-to-plane catering program and a wellness service, including sleep strategies and stretching exercises led via seatback videos.

Emirates' posh perks for first and business class fliers – cocktail lounges, in-flight showers – may get all the attention, but that's only one reason it scores so high among travellers. With its fleet of Airbus A380s, state-of-the-art seat-back entertainment system with 1,800 channels, and Wi-Fi connectivity, the Dubai-based airline gets kudos for service and amenities in all classes of service.

And those classes are set to expand: The carrier is expected soon to debut its long-planned premium economy cabin, with an emphasis on the "premium" side of that hybrid class.

Qatar has one of the industry's youngest fleets of ultra-long-haul wide-bodies: It flies the Boeing 787 Dreamliner and the newest Airbus counterpart, the Airbus A350-1000. Both jets' composite structures allow lower cabin pressure and higher humidity, which can lessen the effects of jet lag, especially if you're connecting through Qatar's hub in Doha to points beyond.

Its QSuite business class, which can be configured with double beds and four-person dining suites, has won rave reviews from fliers with pleasing touches like hot towels and a welcome drink. Read more at www.cntraveler.com/galleries/2015-10-07/top-international-airlines-readers-choice-awards.