75% drop in turnover compared to 2019 due to COVID
Airline takes steps to save $100 m per annum by reducing lease costs
Slashes staff from 7,000 to 5,000, VRS in the offing
Chairman says pandemic was a blessing in disguise to restructure organisation
Hopeful of profit-making or at least break-even level post-COVID
Says negotiating with Govt. to convert debt into equity to reduce costs
Sri Lanka explores travel bubbles with UK, Singapore and China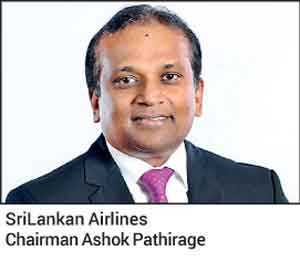 ---
SriLankan Airlines Chairman Ashok Pathirage, in an interview with Bloomberg Markets Asia yesterday, discussed how the national carrier is coping up with the impact of the COVID pandemic.

He said that the airline has seen a 75% drop in turnover compared to last year due to the pandemic, and they have taken many measures to reduce costs. However, he expressed optimism that the organisation will be in better shape post-COVID, as compared to most of the larger airline companies.
"We have taken a lot of initiative to reduce our costs. We have negotiated with our lessors, reduced salaries of our employees, and we are planning to have a volunteer retirement scheme (VRS). We are successful in all those initiatives. This is also a good opportunity for SriLankan Airlines to cut a lot of costs, particularly in leases. We have managed to reduce leasing cost by 18%, which is about $100 million per annum," he said.
He also said the organisation is looking at measures to further reduce costs by slashing the number of employees. "We have furloughed, but did not terminate anybody outright. There had been a lot of outsourced, contracted staff, which we have laid off. Apart from that, we have kept the permanent staff still on the payroll, but there is a VRS in the offing. We had a total of 7,000 staff pre-COVID. Now we have brought it down to 5,000 — but that, too, is still high with the current operations. We are taking all measures to make it a leaner organisation," he stressed.

Noting that the pandemic was a blessing in disguise, the Chairman said they have restructured the organisation to a certain extent, but it was still ongoing. "More work to be done, but we will be in much better shape when we return to normalcy. We can be hopeful of profit-making or at least break-even level," he added.

When asked if SriLankna Airlines was still going ahead with plans to lease A350 or A330 aircrafts, Pathirage said it was a pre-COVID decision. "In today's context, we don't need 30% of our fleet. We are negotiating with Airbus to see what the best option for us is, but at the moment, we are not in a position to tell what it is going to be," he added.

He categorically denied the speculations of selling the airline to an interested Chinese firm, stating that it is not the Government's vision. "The Government's vision is not to sell the company, and we are not engaged in any such activity. It is not the thinking of the shareholders," he pointed out.

Highlighting that debts of the company are predominantly to the Government, the SriLankan Airlines Chairman said they are in the process of negotiating with the State to support the national carrier during this difficult period.

"We are dealing with $1 billion of debt, which we owe to the State banks. We have raised money through International Bonds. We are talking to the Government on how some of the debt can be converted into equity to reduce our burden on interest costs. The Government has been very helpful to the organisation, and we are confident they will support us till we overcome this phase," he said.

In terms of post-COVID and keeping up with regulations of social distancing and its impact on profitability, Pathirage said SriLankan Airlines is taking all possible measures to trim its expenditure to be a lean organisation.

"I don't know about social distancing inside an aircraft because it is going to hit everybody. It is something I don't believe. Although we may not expect the revenues to return to the same as the pre-COVID era, we have taken measures to reduce our costs and be a lean organisation. If the Government is willing to support us in converting part of the debt into equity, that would help us. We may be in a much better position to turn into profitability – not immediately, but in two-years, we can get there," the Chairman said, expressing confidence.

When asked if the Government was exploring any travel bubbles, Pathirage said Sri Lanka is looking at the UK, Singapore and China.

"We have thought about travel bubbles with the UK, Singapore and China as a lot of travel happens between these three countries. At the same time, the Singapore airport is still pretty much closed, and the UK is strictly following quarantine procedures. In that context, we are currently engaging through our foreign missions," he said.