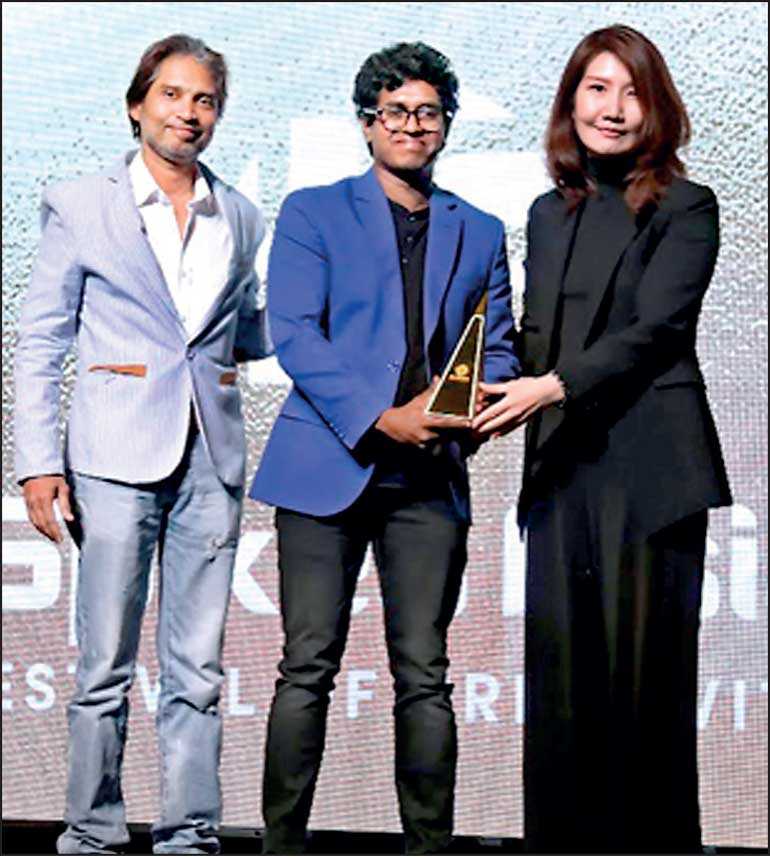 TBWA Sri Lanka Chief Creative Officer Nathasoruban Sivapatham and Creative Group Head Shyan Gershon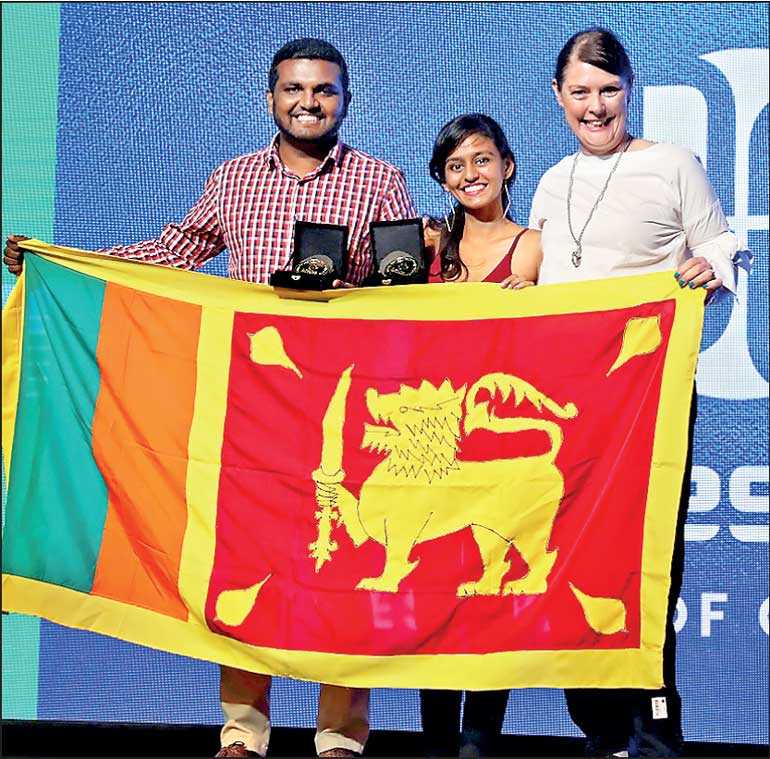 Phoenix Ogilvy Group's Hansaka Wickramasinghe and Dinali Rajapakse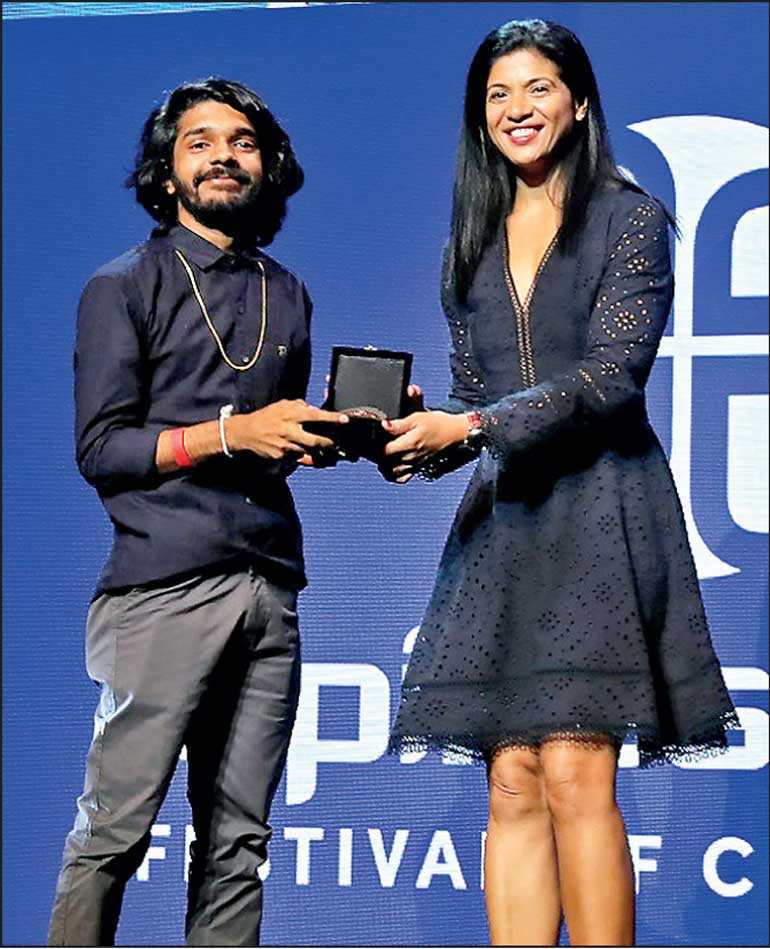 Sathira Perera from the University of Moratuwa
---
Phoenix Ogilvy wins Young Spikes Gold; TBWA wins Gold for their campaign for 'Aura Aliya', Moratuwa University student Sathira Perera wins Gold at student competition and Anusha Wijeyaratne of Phoenix O & M selected to serve on Glass jury
Triad and NGage also bring home medals
The creative contingent from Sri Lanka stole the limelight at the Spikes Asia Festival of Creativity 2019 in Singapore recently, sweeping all facets of the competition – at the student, young professionals, creativity and jury level, bringing glory to Sri Lanka at the biggest festival for marketing communications in Asia Pacific.

A world-class three-day celebration of creativity, the Spikes Asia Festival offers an once-in-a-lifetime opportunity of learning and networking for creative communications professionals across the region. Nine young professionals and one tertiary student from Sri Lanka's advertising, PR and design industries represented the country at the annual Young Spikes 2019 competition which is considered to be the Asian games for the advertising industry.

This opportunity to participate in the prestigious regional competition was facilitated by Metal Factor, a personal initiative spearheaded by veteran ad personality Ranil de Silva, in a bid to give back to the marketing communications industry.

Metal Factor aims to help Sri Lanka's advertising industry achieve its ambition of achieving world-class standards and gain global recognition for the industry's talented professionals and creativity.

Metal Factor's initiatives are focused on benefiting the youth and the industry as a whole in meaningful ways. It plays a crucial role in developing the next generation of creative leaders by selecting promising young professionals to represent the country at the world's most prestigious festivals, which not only gives the youth valuable global exposure but also showcases local creative talent. Metal Factor has realised its vision – with this triumph of the Sri Lankan industry at the Spikes Asia 2019. Phoenix Ogilvy & Mather Creative Consultant Anusha Wijeyaratne was selected to sit on the Outdoor and Radio & Audio Jury at Spikes Asia 2019. Creating history, she was also invited to serve on the Glass jury, a first for a Sri Lankan.

As one of Sri Lanka's foremost creative directors, Anusha has been responsible for some award winning creative campaigns throughout her career. Ranil de Silva said: "Anusha is one of Sri Lanka's most talented creative leaders. I strongly believe that there are very few English based Creative Directors of her calibre in Sri Lanka. She is also an exemplary professional right down to her fingertips."

The Spikes Asia 2019 Young Spikes Gold winners were two young professionals from Phoenix Ogilvy Group's Hansaka Wickramasinghe and Dinali Rajapakse brought glory to the Sri Lankan communications industry by winning Gold in the 'Media' category.

Competing against 12 teams from across Asia Pacific, they were successful in securing the Gold medal. Maheshi Dunuwilage and Shahan Fernando from NGage Strategic Alliance won the Bronze Award in the Young Spikes PR Competition for presenting a PR campaign for eco-tourism.

In addition, Sathira Perera of the University of Moratuwa walked away with the Gold for the Student Creative Award for Print for his poster design. Kokuladason Biruthiviranjan from the University of Moratuwa was chosen from several student portfolios that were reviewed by the festival to attend the Cheil Academy at Spikes Asia 2019.

TBWA was the most awarded agency at Spikes Asia 2019, taking home one Gold, two Silver and two Bronze awards for Aura's 'Aliya Incense Barricade' – elephant repellent incense sticks that help maintain a safe distance between rural villages and elephants. Triad also won Silver and Bronze medal at Spikes Asia 2019 for its Life Chant campaign, launched in partnership with the Public Health Department of the Colombo Municipal Council.

Commenting enthusiastically on this year's performance of Sri Lanka's marketing communications industry Ranil de Silva said: "It is indeed a moment of pride for me personally, and for the Sri Lankan industry and for the nation as a whole to have been applauded across every level of competition at Spikes this year. I extend my heartiest congratulations to all the winners of the competitions and the agencies for their haul of medals.

"Their triumph reaffirms my determination to take Sri Lanka to the global stage of creative leadership. I have been committed for the last 10+ years to promote our talented young professionals through Metal Factors, to elevate their creative potential on a wider platform. Metal Factor is an initiative I have personally created to give back to the industry which has given me so much of joy, recognition and rewards."

This year, the Young Spikes competition was conducted by Metal Factor in partnership with the 4 A's. Ranil stated that he was most grateful to 4 A's President Sugibun Sathiamoorthy and Young Spikes competitions Chairman Rameez Fazal for their dedication and for the outstanding manner in which they conducted the competition.

This year the Young Spikes competition received an overwhelming response for the local competition from which the winners are selected to participate at the Young Spikes competitions. TBWA Sri Lanka Managing Director Renuka Marshall said: "We are thrilled to be the most awarded agency from Sri Lanka at Spikes Asia 2019 where our winning campaigns for 'Aura Aliya' brought home one Gold, two Silvers and two Bronze metals. I would like to congratulate the winning team from TBWA on their success. I am confident this success will inspire us to uphold this victory with more metal at the upcoming festivals."

The winning duo of the Young Spikes Gold Hansaka Wickramasinghe and Dinali Rajapakse said: "We are thrilled to have won the gold in a very challenging competition. We are delighted that the jury selected our idea to be the best. It is an honour we will cherish throughout our career. Besides winning Gold, the learning experience we gained from the festival is immense. We have come back enriched by the knowledge we gained."

Sathira Perera from the University of Moratuwa stated that he was honoured to have gained this opportunity to attend the festival. "It was a first time experience for me and it certainly was a life changing experience. I am delighted that my poster won the gold from over 100 posters that had been submitted for the competition. I do hope I will be able to win many more rewards for my creativity in the future."

The Spikes Asia Festival is the region's oldest and most prestigious event that recognises the best work in the categories of Film, Print, Outdoor, Radio, Digital, Direct, Promo and Activations, Media, Design, Poster, Craft, Integrated, Mobile and PR.

A collaboration between the organisers of the Cannes Lions Festival and Haymarket, the Spikes Asia Festival provides the region's rapidly growing creative and advertising industry with an opportunity to network, exchange ideas and think creatively. The festival serves as an important platform, which not only recognises the best work in the region, but also brings together Asia Pacific's leading creative thinkers and brightest young professionals.