Aims to attract post-COVID travellers to SL during 6-month Expo
Sri Lanka Tourism Chief says plan is to reach 2018 numbers overall
EDB to increase exports through its retail space with 'Made in Sri Lanka' products
PM Rajapaksa to inaugurate main country-designated event on 3 January
Singing sensation Yohani to perform at National Day event
Unique water-themed pavilion focused on promoting Sri Lanka as a gateway to South Asia
---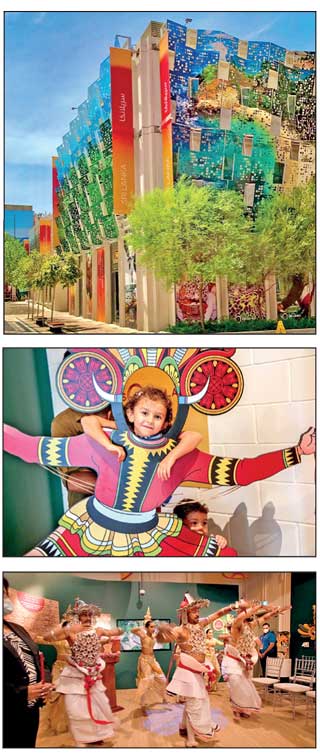 Sri Lanka aims to boost tourism, investments and exports through its participation in the six-month World Expo 2020 in Dubai — the largest global gathering since the outbreak of the COVID pandemic.

"We have created tourism, trade and investment opportunities at World Expo, which will generate great growth avenues for Sri Lanka," Commissioner General for Expo for Sri Lanka/Tourism Chairperson Kimarli Fernando told the Daily FT from Dubai.

Located in the 'Opportunity District', the Sri Lanka pavilion was inaugurated under the patronage of Consul General of Sri Lanka – Dubai and Northern Emirates Nalinda Wijerathna on 1 October.

"We will promote, showcase Sri Lanka and facilitate partnerships for opportunity creation. We will do our best to position and champion Sri Lanka at Expo 2020 Dubai," the Minister said at the inauguration.
The 300-square metre pavilion with its water-based theme brings the planning principles of the ancient civilisation to life, focusing on three key pillars of 'Authenticity, Compactness and Diversity'. It was designed by a team from the University of Moratuwa and recognised as one of the best designs at Expo 2020 Dubai, which resulted in the pavilion being constructed on a complimentary basis by the Expo organisers.

Fernando said through an aggressive promotion campaign, the target was to position Sri Lanka as a key post-COVID travel destination.

"Our target is to reach 2018 numbers overall," she added.

Tourism Minister Prasanna Ranatunga said Sri Lanka made it to the Expo despite all the challenges amidst the pandemic.

He said Sri Lanka Tourism was honoured to present the country along with other key partners — the Export Development Board (EDB), the Sri Lanka Tea Board (SLTB), the National Gem and Jewellery Authority, Laksala, SriLankan Airlines, the Board of Investment and other partners.

"We are excited to announce the opening of the amazing and imaginative Sri Lanka pavilion at Expo 2020 – Dubai. Sri Lanka has a rich and unique maritime history with shipping, trade and cultural links. Inspired by an aquatic theme, the pavilion creates a warm and welcoming space for all visitors and highlights its potential as one of the most delightful destinations in the world to visit. We invite the world to visit us at Expo 2020 – Dubai," Consul General Wijerathna said at the inauguration.

"Sri Lanka is proud to be part of Expo 2020 – Dubai. We have brought together the best of Sri Lanka and we have three messages for the world. First, investment opportunities in tourism, Port City and other areas. Second, world class Ceylon Tea, gems and spices. Third is tourism, inviting the world to visit us and to enjoy a world class offering," Sri Lanka's UAE Ambassador Malraj de Silva said.

The specially designed pavilion is a breath-taking mix of heritage, history, local style and the latest technology. This will give participants a glimpse of island life in all its splendour, helping create interest that will attract both visitors and investors. The entire experience is designed to be personal, immersive, and memorable, conveying the island's warm, sunny personality and exotic character.

With over 200 countries participating in the event, there will be a wealth of interest in Sri Lanka's unique arts, crafts, cuisine, and culture. Sri Lanka's story will be told through the creative use of song, dance, cultural events, and a host of strategically targeted programs. In addition, there will be a wedding show to brand Sri Lanka as a prime wedding and honeymoon destination as well as a storytelling session, featuring the work of renowned children's book author late Sybil Wettasinghe.


Sri Lanka Tourism Chief Fernando also said post-COVID, travellers were looking for tranquillity, peace, serenity and healing; in which Sri Lanka is uniquely positioned with an amazing offering.

"A walk in our mountains, a dip in our nature's ponds, a glimpse through our history and culture will create a lasting memory. We invite the world to come indulge in our world class hospitality and nature's luxury for an amazing getaway that is unique, authentic and 'so Sri Lanka,'" she added.

Visitors to the pavilion are also offered an opportunity to win free air tickets from SriLankan Airlines on a weekly basis. Since the inauguration, the pavilion has got a significant number of visitors, she added.

Fernando pointed out that World Expo 2020 – Dubai would be an ideal platform for Sri Lanka to showcase the best of its products and services and to create much-needed business links with the world.

"The exhibition will benefit SMEs, emerging exporters and mature export industries of Sri Lanka to explore new ideas, gain new knowledge and move into innovation in their respective sectors," Fernando asserted.

The EDB hopes to increase exports through its retail space , which boasts of 'Made in Sri Lanka' products and gems and jewellery during the six-month expo.

Visitors are also able to unravel the secret of the leaf-to-cup world-famous Ceylon Tea at the special tea corner, courtesy of the SLTB.

The key event for Sri Lanka is designated to be held on 3 January under the patronage of Prime Minister Mahinda Rajapaksa, Sri Lanka's Ambassador to the UAE, the Tourism Minister, the Sri Lanka Tourism Chairperson and other dignitaries.

Singing sensation Yohani De Silva, who rose to global fame with her cover version of 'Menike Mage Hithe,' is also scheduled to perform on the National Day event.

World Expo 2020 – Dubai is slated to be the most diverse expo in the world, with plans to attract over 25 million visitors, 70% of whom will be foreign, to showcase the best products from over 200 countries. It is scheduled to be held from 1 October to 31 March 2022 and spread across a land area of 438 hectares located midway between Dubai and Abu Dhabi.

The expo was postponed from October last year due to the outbreak of the COVID pandemic.

Declared as the growth decade from 2021 to 2030, Sri Lanka seeks a world of opportunities in investments. With the creation of the 'one-stop-unit' and 'single application' system for tourism investments and the support extended with zero VAT, tax holidays, exemptions and other facilitations, a boom in tourism investments is expected and the world invited to be a part of the growth.

A delegation from the BOI and Colombo Port City will showcase many lucrative and high potential opportunities of investment on offer for the investors.