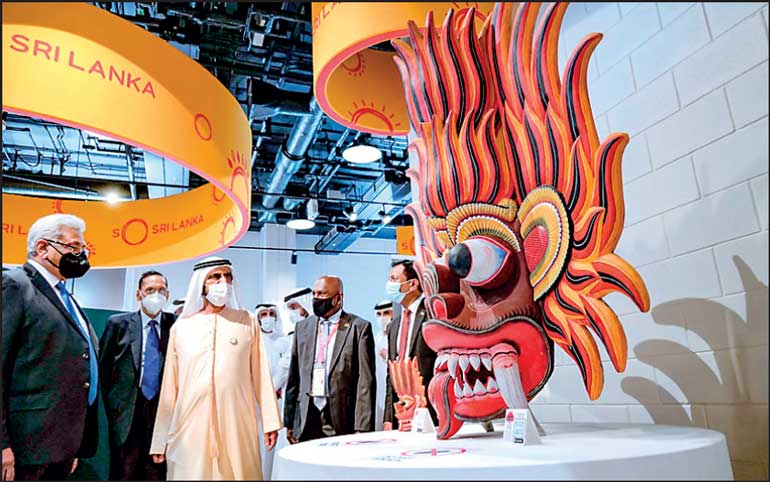 President Gotabaya Rajapaksa with UAE ruler and Prime Minister Mohammed bin Rashid Al Maktoum when the duo visited the Sri Lanka Pavilion at Expo 2020 in Dubai early last month - File photo.
---
Ministers G.L. Peiris, Prasanna Ranatunga, State Minister Lohan Ratwatte among top delegation to officiate at Sri Lanka's National Day exposition of trade, investment and tourism opportunities at Expo drawing 50,000 visitors daily
Sri Lanka Pavillion visited by over 50,000 since start of Expo in October
Garners over Rs. 95 m worth of earned media coverage​
---
By Charumini de Silva in Dubai
---
Sri Lanka will get what is billed as the biggest post-COVID spotlight to woo trade, investments and tourism today with elaborate plans to celebrate the 'National Day' event at the Expo 2020 in Dubai which draws 50,000 visitors daily.

Sri Lanka's fresh push at today's National Day event will be attended by a high-level delegation led by Foreign Affairs Minister Prof. G.L. Peiris, Tourism Minister Prasanna Ranatunga and Sri Lanka Ambassador in the UAE Malraj de Silva.

Others in the delegation include Foreign Affairs Ministry Secretary Jayantha Colombage, Gem and Jewellery State Minister Lohan Ratwatte, and MP Madura Vithana. The Sri Lankan delegation will be joined by the UAE officials.

They will also hold bilateral meetings focused won tourism, exports and investments.

The National Day of Sri Lanka will be a colourful, emphatic event-filled exposition of cultural performances themed 'Pearl of the Indian Ocean' staged at Al Wasl Plaza at the Stage of Nations today.

Sri Lanka Tourism Chairperson and Expo 2020 Commissioner-General Kimarli Fernando will make the destination pitch, highlighting Sri Lanka's readiness for growth and revival of the Tourism industry post-pandemic.

"Since the opening on 1 October, nearly 52,000 people have visited the Sri Lankan Pavilion situated in the 'Opportunity District' at EXPO 2020 Dubai. We had 20,314 visitors in October, 10,692 in November and 20,700 in December exploring the Sri Lankan Pavilion," Fernando told the Daily FT, which is among a select group of newspapers invited to cover Sri Lanka's National Day.

As of end December, EXPO 2020 had attracted nearly six million visitors from around the globe and the event is on track to welcome around nine million visitors over its six-month runtime, ending on 31 March.

"Over the last three months of 2021, Sri Lanka got over $ 95 million worth of earned media coverage through CNN Dubai TV, Abu Dhabi TV and many more," Fernando said.

The country basked in the spotlight of reviews by international media stations and is steadily greeting visitors with a warm 'Ayubowan!'.

Sri Lanka Consul General in Dubai Nalinda Wijerathna said the Sri Lanka Pavilion has been a great opportunity to attract interest from visitors around the globe.

He said tourism, exports products such as gems tea and other plantation industries, investments, including opportunities in Port City, were promoted at the pavilion.

"We got a lot of inquiries from new companies and individuals in these areas particularly. We expect that these inquiries will be converted to tangible trade and investments during this year, and it will get added to our national economy," Wijerathna added.

At the Lankan Pavilion, an interactive craft corner, which had a cane weaver demonstrating drew many, is run on a rotation basis with an array of activities from batik, Sri Lankan puppetry, clay pottery, wood carving, Sri Lankan sculpting craft, patterns of 'beeralu,' brass plate designs, mask carving, rush and reed craft, flax designs, and more, showcasing Sri Lankan arts and crafts to the world.

Included in the pavilion is a retail corner hosted by Export Development Board (EDB), providing the opportunity for Sri Lankan export businesses to exhibit their products. These exporters were selected in response to an industry circular that provides the opportunity for more variety and a greater number of exporter participation as it is on a rotation basis.

Also included in the pavilion is the famous 'Ceylon Tea' corner, hosted by the Sri Lanka Tea Board (SLTB) in partnership with the private sector and will be on a roster basis and run throughout the six months.

The Board of Investment (BOI), Port City and SLTB will have their own B2B forum facilitated by Sri Lanka Tourism at Expo 2020 Dubai, focusing on creating awareness and connecting with potential investors and businesses, paving the way for Sri Lankan businesses to unleash possible opportunities in a global marketplace. Also being hosted is the Sri Lanka Tourism Travel B2B Forum, connecting the local travel and tourism industry with global players.

The Sri Lanka Gem and Jewellery Authority with industry participation will showcase 'Ceylon Gems' at the Sri Lanka Pavilion, and also run a gem promotion, providing the visitors with an opportunity to win Ceylon gems. This will be made available till the end of this month.

The SriLankan Airlines' raffle draw to win free airline tickets, with social media engagement, is also a huge success according to reports coming from Dubai.

Laksala, a State-owned gift and souvenir shop, is also provided with a special souk to showcase and sell Sri Lankan arts and crafts outside the Sri Lankan Pavilion.

"Taking on the huge responsibility and challenge with limited time and resources, we are happy to state that the Sri Lanka Pavilion is a success due to the concerted effort of all stakeholders who stand behind Sri Lanka and Sri Lanka Tourism," Fernando added.

Sri Lanka Tourism was scheduled to host a Travel and Tourism Forum tomorrow (4 January) with 40 Dubai-based delegates, who will be present to attend B2B meetings, and the 35-strong Sri Lanka travel and tourism delegation in Dubai.

They will be looking for a booking bonanza, in view of the ongoing positive publicity the destination has received post-pandemic recovery. However, due to the current COVID-19 restrictions in place in Dubai, the event has been postponed to a later date in March; yet, the delegates will be connected through a virtual event set to take place in early January 2022.

This was planned to take place at a time when the global spotlight shines on Sri Lanka where Travel + Leisure recognised the country among 'The Top 25 Islands in the World' in September 2021. Sri Lanka was also placed second on Club Med's index of the best places and countries around the world to become a Digital Nomad. Additionally, Sri Lanka was identified as the home of four of the Top 25 Resorts in Asia by the Readers' Choice Awards 2021.

In May 2021, Bloomberg's 'Explore the New Seven Wonders of the World' featured Sri Lanka, and Global Wellness Institute ranks Sri Lanka as the fourth country on the world's top Wellness Tourism Destination list.

The Daily FT learns that singing sensation Yohani de Silva will perform in March. Earlier, Yohani was scheduled to perform at the Sri Lanka National Day event, but due to the current spike in COVID-19 in Dubai, her performance has been postponed.

Expo 2020 Dubai is hosted on a 438-hectare area (around 1,083 acres) of desert land, held with the participation of 192 countries under the thematic districts of Opportunity, Mobility and Sustainability; and the Sri Lanka Pavilion is positioned in the 'Opportunity District' of the Expo Village. The space allocated is a 212 sq. m. area, assigned free-of-charge, by Expo 2020 Dubai.