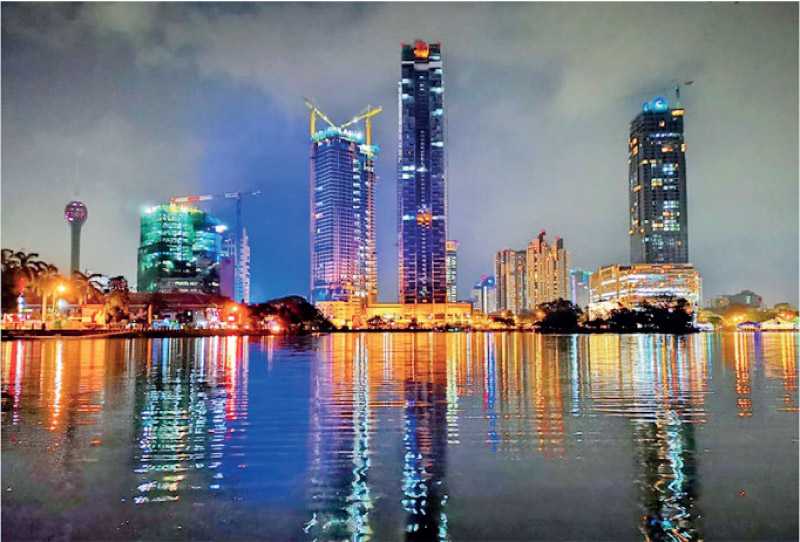 Colombo's skyline as seen at night (from left): Lotus Tower, Capitol TwinPeaks, Altair and Colombo City Centre
---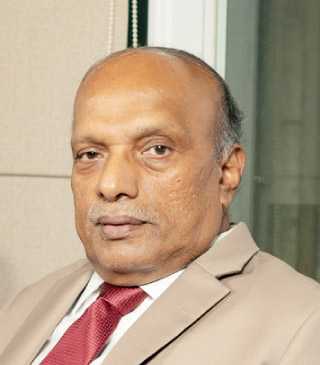 Chamber of Construction Industries of Sri Lanka President (Eng.) Ranjith Gunatilleke
---
"Sri Lanka's real estate industry is the frontier that will uplift and elevate the nation, on a global scale," says a hopeful (Eng.) Ranjith Gunatilleke – the current President of the Chamber of Construction Industries of Sri Lanka, a Chartered Engineer and an entrepreneur in the construction industry.

Eng. Gunatilleke entered the real estate and construction industry in 1976 serving as a Civil Engineer in the Sri Lanka Army Engineers Voluntary Division, then the State Development and Construction Corporation prior to joining the Private Sector. He shortly thereafter joined Mitsui Construction Co. Ltd., in 1979 and served as the Chief Engineer until the formation of Sanken Construction (an associate company of Mitsui). He currently holds the position of Deputy Chairman of the Sanken Group.

He has held positions such as Chairman of Major and Specialists Contractors Association of Sri Lanka, Member of CIDA (ICTAD) Management Board, Corporate Member of the IESL Board of Registration representing the Private Sector and Member of the Advisory Committee on Professional Service Sector of the Sri Lanka Export Development Board.

His 40+ years in the real estate and construction industry has made Gunatilleke a veteran and sought-after thought leader for Sri Lanka's growing property market.


How did the real estate and property market fare in 2020? An unprecedented year

Speaking with Gunatilleke he delves into the recent pandemic, explaining that as 2020 came to a close – Sri Lanka began its economic recovery from the 2019 Easter attacks. This left several industries, including travel and tourism as well as real estate and construction reeling, only to be further affected by the global COVID-19 pandemic. "2020 was unprecedented, to say the least," stated Gunatilleke. "Every industry, locally and globally was and still is affected by the times we continue to face. The supply chain has been severely affected resulting in the downward spiral of our economy. However, 2021 is expected to be a far more promising year of several underlying industries."

Whilst 2020 was a year of overcoming challenges and traditional work models, to regain momentum in business, by getting the workforce back on track under safety guidelines, Gunatilleke reflects, "2020 taught us to be self-reliant; to think outside of the box; and the importance of segregated community living."


What was a good example of overcoming the obstacles of 2020?

"A prime example of strategic implementation and forward thinking is when the Capitol TwinPeaks apartment project – under Sanken, began import financing," stated Gunatilleke, "in order to continue construction for handover, beginning from end June 2021". The Capitol TwinPeaks project became Sri Lanka's first and only development during the pandemic and subsequent national lockdown to continue with construction unhindered. This is largely due to Sanken's deep roots stemming from the Japanese-Mitsui group, which inculcated strategic planning to deliberately ensure the continuation and success of the TwinPeaks project. "The Sanken Group had already ordered raw materials and equipment much ahead of the scheduled requirements – which we now see the project reaping the benefits of as they successfully circumvent the current shortages and restrictions faced by a large proportion of the industry."

Although the real estate industry remained stagnant throughout 2020 – many developments restarted construction of projects under strict government safety regulations, in a bid to stimulate an ailing economy.


What is expected of Sri Lanka's real estate market? Buyers' market

Gunatilleke expressed that with the end of a "truly unprecedented year", Sri Lanka experienced an all-time low in the financial sector with Fixed Deposits hitting a low of 4-5% returns per annum. However, the introduction of attractive mortgage loan opportunities for interest as low as 7%, per annum from every Central Bank authorised financial institution is a booster for people investing in sri Lanka's real estate.

The veteran real estate professional further stated, "Here heralds the risk vs. reward seen by return on investment in Sri Lanka's property market with local buyers now playing a far more pivotal role, than ever before." Gunatilleke notes, "We are currently navigating a 'Buyers' Market' – where supply exceeds demand".

As COVID-19 continues to severely affect many economies, Sri Lanka's property market faces an exodus of international/ foreign investors and developers, thus expanding real estate possibilities for local buyers and developers. Gunatilleke anticipates that in 2021 – the property market will shift to a sellers' market, with the rapid increase in demand vs lesser supply of available quality apartments. This situation is expected to diminish gradually, by 2022.


What does the future of real estate look like?

Gunatilleke explains that currently Sri Lanka is under-urbanised, at less than 19%; compared to Malaysia at (approximately) 77% and Singapore at 100% according to the World Bank (2019). Through continued efforts, development and change in local government policy, Sri Lanka is expected to reach 30% urbanisation by 2030.

The latter is expected more so by the provision of urban housing in Colombo as well as affordable housing plans and financial schemes.

"The supply of apartment units hasn't changed. The sellers' market will however occur, as we are expected to receive a significant shift in trend resulting in increased demand from local buyers - within Sri Lanka (with foreign interest expected to pick up shortly thereafter). This growth in demand is due to several reasons, such as need for security, efficiency, real estate value addition and of course the documented 7-10% steady growth in capital gains, per annum," concluded Gunatilleke. It is anticipated that with vulnerabilities in the Colombo Stock Exchange – this too will result in a significant shift of investment towards real estate.


Why invest in real estate?

Gunatilleke explains that as the phase-by-phase completion of Port City continues, starting from 2025 (onwards) – built as an extension of the Central Business District in Colombo, a knock-on effect on property prices and demand is expected for developments located in Colombo 1, 2 and 3. Investors are expected to receive higher return on investment as well as higher rental yields on owned property.

With the continued progress of Port City, Gunatilleke expects Sri Lanka – mainly Colombo to receive an influx of 500-1,000 expat families, annually.

For a notable real estate developer such as Capitol Developers, a member of the Sanken Group to whom approximately 70% of Colombo's growing skyline is attributed to, and the only Sri Lankan construction firm with over 40 years of experience and presence in over 12 countries – this bodes well, as demand for trustworthy, quality residential apartment housing grows.

Gunatilleke believes that foreign investment in Sri Lanka's real estate market is set to rise with the implementation of further global health and safety measures, returning to a more positive norm. With the continuation of Port City and approval of developments, Sri Lanka is set to become a global business hub, making its strategic location, developments in infrastructure and local attractions a haven for foreign investors and travellers.

"The next few years are expected to see a continued exodus of foreign one-time developers from the Sri Lankan property market and as such, local developers who have navigated the recent pandemic are expected to capture a larger share of the real estate and construction market. This will result in further upliftment of Sri Lanka's economy through the growth of a circular economy," concludes Gunatilleke.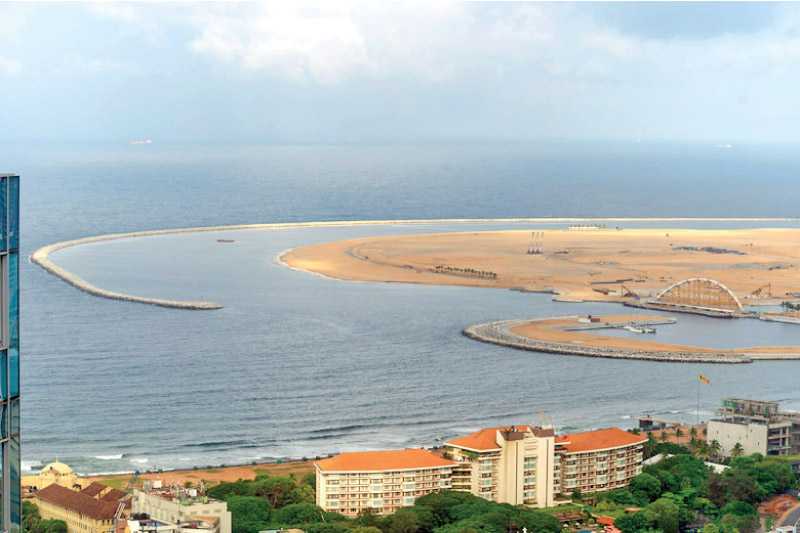 Upcoming Port City, as seen from Capitol TwinPeaks – Sanken
---