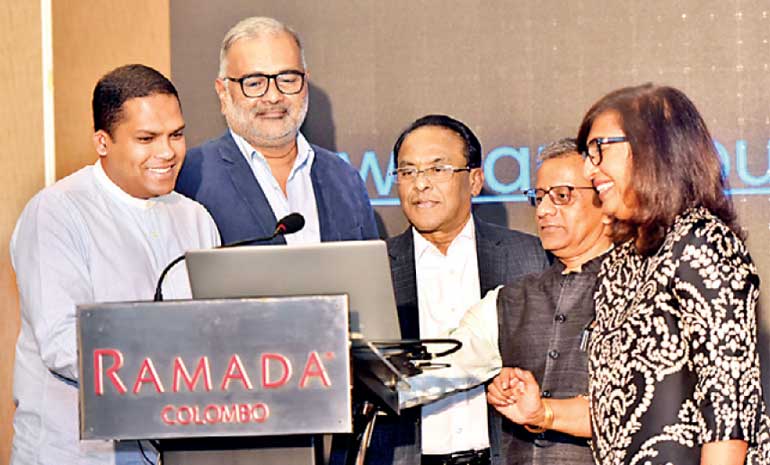 www.andyouthoughtyouknewsrilanka.com website being launched by (from left):Tourism Minister Harin Fernando, SLAITO President Nishad Wijetunga, THASL President M. Shanthikumar, Indian High Commissioner Gopal Baglay and Dentsu Grant Group Chairperson Neela Marikkar - Pic by Ruwan Walpola
---
Dentsu Group with SLAITO and THASL unveils integrated campaign 'And you thought you knew Sri Lanka'
Aims to feature lesser-known attractions to draw young Indian professionals from Bangalore
Campaign is a pro bono from Dentsu Group Sri Lanka and Dentsu India to support tourism revival in SL
Indian High Commissioner Gopal Baglay says time to explore greater cooperation for two-way tourism
Tourism Minister Harin Fernando commends proactive efforts by private sector to reinvigorate industry
SLAITO President Nishad Wijetunga expresses confidence in a win-win initiative for all stakeholders, economic revival
THASL President M. Shantikumar expects initiative will assist SL to revive industry, exceed past figures by year-end
Dentsu Group Chairperson Neela Marikkar is hopeful conceptualised campaign will inspire young Indians to visit Sri Lanka
---
By Charumini de Silva
---
In an attempt to woo a fraction of the $ 10 billion travel market of India, Dentsu Grant Group together with the Sri Lanka Association of Inbound Tour Operators (SLAITO) and The Hotels Association of Sri Lanka (THASL) yesterday launched an integrated campaign – 'And you thought you knew Sri Lanka'.

The campaign is a pro bono work from Dentsu Group Sri Lanka and Dentsu India to support the revival of the triple-hit tourism industry, which was executed after comprehensive research to lure young Indian professionals in the age group of 31 - 36 from Bangalore.

With Sri Lanka having all ingredients to be a short-haul adventure destination, the promotion aims to feature lesser-known attractions that will offer brand-new experiences to young Indian professionals who are looking for fun and inspiring getaways with authentic experiences.

Speaking at the event Indian High Commissioner Gopal Baglay said the time has now come to explore greater cooperation for two-way tourism with sizable ties and bonds.

"India has been very supportive of Sri Lanka and the first to help. This support has not been limited to just one sector or industry, but to people in Sri Lanka. I think India and Sri Lanka are civilizational twins. This factor has made Indians feel comfortable travelling to Sri Lanka," he added.

The High Commissioner suggested Sri Lanka also explore the possibilities of expanding religious tourism between the two countries as it would further expand the two-way tourism in another layer that will boost arrivals, income and cultural values.

Tourism Minister Harin Fernando commended the proactive efforts taken by the private sector to reinvigorate the industry and extended special thanks to India for their support.

"India has always been our number one tourist-generating market but at present, it is number two behind Russia. Our efforts are to make India the number one source market again," he quipped.

Minister Fernando also appreciated all airlines that increased their seat capacities in Sri Lanka in boosting the numbers from December to date.

SLAITO President Nishad Fernando expressed confidence in the product offerings through the campaign for younger Indian professionals.

"India is a key market for Sri Lanka. We believe, the renewed efforts to attract the tech-savvy, new generation of Indians will be a win-win initiative for all stakeholders and to support the economic revival of the country," he added.

THASL President M. Shantikumar expects the initiative will help Sri Lanka to revive the tourism industry and exceed the past figures by the end of this year with a great start in 2023.

"With the new attractions and activities altogether, we have curated offerings to cater for all segments looking at great travel options in Sri Lanka. Given the great connectivity between India and Sri Lanka, it was an ideal market to explore," he pointed out.

Dents Group Chairperson Neela Marikkar said they wanted to have a new story to tell the younger audience about the amazing aspects of Sri Lanka they would not know about.

"We are delighted to support SLAITO and THASL to bring in a greater influx of Indian tourists. As a top MarCom agency, we conceptualised a campaign which we feel will strike a chord with the young Indian audience to hope to inspire them to visit beautiful Sri Lanka," she explained.

Marikkar also said following the feedback of the campaign in Bangalore, they plan to launch similar campaigns targeting Delhi and Mumbai in the next phase of the campaign.

A website www.andyouthoughtyouknewsrilanka.com featuring locations was also launched by the dignitaries. The website gives a synopsis of what to expect in Sri Lanka. These include; underwater shipwrecks in Pasikuda, nil diya pokuna in Ella, Kabaragala mountain hike in Sabaragamuwa province, white water rafting in Kitulgala, and water sports in Kalpitiya.