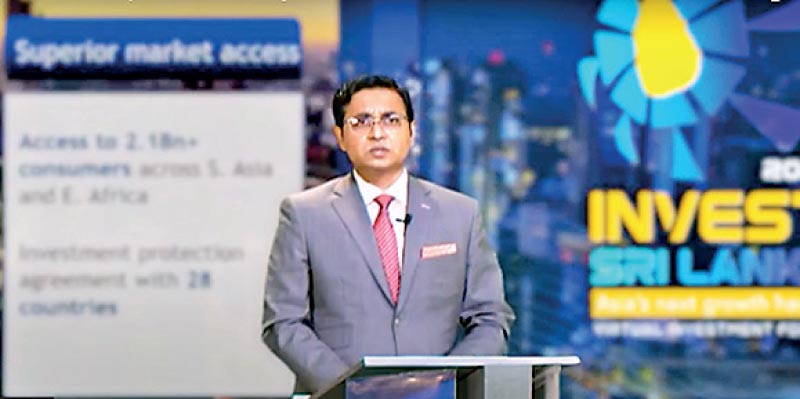 BOI Chairman Sanjaya Mohottala
---
Says SL can achieve 7% GDP growth, export and services earnings of over $ 30 b by 2025
Manufacturing, ICT, tourism, agri and food processing, infrastructure and other services, identified as thrust sectors for the growth decade
Revises $ 10 b original tourism target to $ 8 b due to COVID-19
ICT sector eyes $ 3 b earnings by 2025
Assures continuation of liberal investment policies, allowing 100% foreign ownership and ability to repatriate earnings without any hidden taxes or constraints
---
By Charumini de Silva
---
With six identified key thrust sectors, coupled with growth ambitions and policy and investment orchestration to realise it, Board of Investment (BOI) Chairman Sanjaya Mohottala said Sri Lanka can achieve a sustained GDP growth of 7% and export and services income earnings of over $ 30 billion by 2025.

"Sri Lanka is the next growth haven. Take advantage," he told the Sri Lanka Investment Forum (SLIF) on Tuesday.

Noting that Sri Lanka is home to over 1,200 foreign companies, he pointed out that 50% of capital formation that took place in 2020 by BOI companies came from existing investors expanding their footprint to take advantage of global opportunities.

"This tells you the conviction they have of Sri Lanka's opportunities and its competitiveness as a sourcing destination," he added.

To achieve the vision of doubling GDP over the next 10 years, he identified six catalytic sectors and key sub-sectors that needed to be targeted to attract investment and usher inclusive growth.

"Sri Lanka's decade of growth offers multi-sector investment opportunities. These six key thrust sectors include manufacturing, ICT, tourism, agri and food processing, and infrastructure and other services. By creating a compelling investment climate and specific investment opportunities, Sri Lanka offers a win-win for investors as well as its nationals," Mohottala said.

He added that along with supporting existing industries to expand, the BOI is also looking to orchestrate and help several key manufacturing sectors take root in the country so as to reach $ 1 billion export or import substitution by 2025.

In terms of the apparel industry, he said opportunity exists for investors to set up factories to localise up to $ 1 billion worth of raw material imports, to increase supply chain resilience and supply chain agility, and cater to the growing demands of manufacturers and buyers.

"Sri Lanka is the most ethical sourcing destination in terms of fair labour practices. Building on these strong fundamentals by expanding upstream capabilities, we are looking to be the most environmentally friendly sourcing destination as well."

The BOI Chief said that the Government is offering generous tax breaks up to 10 years, while customised incentive packages for larger investors will be provided for investments in the dedicated pharmaceutical manufacturing zone.

According to Mohottala, the original tourism target of $ 10 billion by 2025 has been revised to $ 8 billion considering the impact of the COVID-19 pandemic and its resulting travel restrictions.

"Post-COVID tourism is eyeing $ 8 billion in terms of revenue, ushering in four million tourists, more than doubling the tourist market we had in 2019, and creating lucrative investment opportunities in the sector. There are investment opportunities in the hospitality industry, especially in world class hotels, medical tourism and wellness, and in building world class theme parks."

Recognising the importance of the ICT sector, he said the Government has introduced 0% corporate taxes for ICT companies.

"We are looking to earn $ 3 billion in export revenue by 2025. Dubbed the island of ingenuity, Sri Lankan code powers multiple stock exchanges, boardrooms, banks, theme parks and many other critical entities."

The BOI is also looking to add $ 3-5 billion additional export revenue through rubber products, agri and food processing, and through the export of fish.

"Sri Lanka is already known to be the global capital for solid tyres. Top tyre manufacturers have already taken root in Sri Lanka, along with tyre exports and vibrant rubber-based products, manufacturing close to $ 1 billion worth of exports today. With the recent expansions and the projects in the pipeline, the overall exports expect to reach $ 1.8 billion by 2023, well on the way to creating a $ 2.5 billion export market by 2025."

Given the recent policy push to embrace organic farming, he pointed out that global food manufacturers have an unprecedented opportunity to take advantage of sourcing organic produce for food processing to cater to rising global wellness trends.

"With our vast coastlines and extensive exclusive economic zones, Sri Lanka can increase aquaculture and marine exports multi-fold, emulating countries like Indonesia and the Nordic nations, which have effectively harnessed its aquatic resources."

With the latest addition of the Colombo Port City project, Mohottala said this offers significant opportunity for real estate investors to capitalise on key infrastructure builds such as hospitals, international schools, entertainment districts, mixed development projects, marina and convention centres.