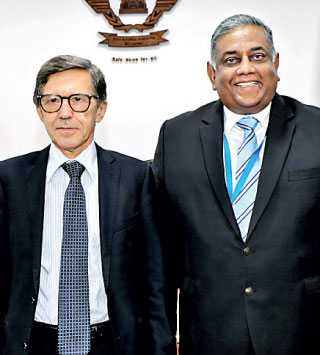 Sri Lanka is among the nine countries approved by the Russian Government to visit after they have successfully contained the spread of COVID-19 within the country.

Russian Ambassador in Sri Lanka Yuri Materiy made these remarks during a discussion with Civil Aviation Authority Sri Lanka (CASL) Director General Capt. (Retd). Themiya Abeywickrema on Tuesday at the authority premises.

The Ambassador has pointed out that the Russian Government has taken this decision after evaluating the optimal initiatives rolled out by the Sri Lankan health authorities and Government's efforts taken to contain the spread of the COVID-19 pandemic.

He also said the fact that more than 300 Russians, who are already on tour in Sri Lanka, have been directed to remain in Sri Lanka has greatly contributed to contain the spread of the novel coronavirus.

The discussion also focused on the resumption of scheduled passenger flights between Russia and Sri Lanka following the re-opening of the Bandaranaike International Airport (BIA) for all international passengers in September subject to complying with the necessary health and safety protocols.

In addition, there was an exchange of views on the possibility of connecting with major airports currently operating flights to other destinations and how to deal with them in the future.