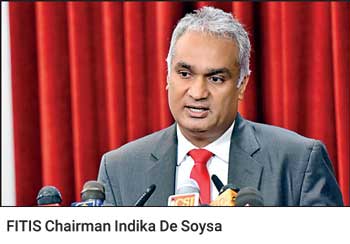 The Federation of Information Technology Sri Lanka (FITIS) Chairman Indika De Soysa projects a significant surge of $ 15 billion to Sri Lanka's Gross Domestic Product (GDP) by 2030 through the expansion of the digital economy.

At a press conference held on Wednesday at the Presidential Media Centre (PMC), he discussed the "DIGIECON Sri Lanka 2030" program, aligning with President Ranil Wickremesinghe's visionary approach.

"Currently, the digital economy contributes $ 3.7 billion to the GDP. The aim is to elevate this contribution to 20%, in line with global trends where developed countries derive approximately 40% of their GDP from the digital economy," he said.

The upcoming 41st National Information Technology Conference organised by the Sri Lanka Computer Association, themed 'Towards a Sustainable Digital Society,' is set to be held from 11 to 13 October at the Shangri La Hotel in Colombo.

This event aims to leverage technology for accelerating Sri Lanka's economic growth through the DIGIECON 2030 program, aligning with the Government's vision of "Towards a Sustainable Digital Society" under the guidance of State Minister of Technology Kanaka Herath.

A comprehensive set of guidelines for the next seven years is being developed in collaboration with the DIGIECON 2030 Government program to enhance technological knowledge among Sri Lankans.

Additionally, the conference will introduce a digital economy master plan and regulatory policy framework by 2030, aiming to accelerate the country's digital economy. Over 30 expert speakers, both local and international, will address key areas such as financial technology, education technology, tourism technology, information security, agricultural technology, and electronic health services.



The conference will also include a digital investment component, seeking to attract potential investors for established IT companies in Sri Lanka and aiming for a target of $ 3 billion in IT exports.

The conference enjoys the patronage of President Ranil Wickremesinghe and is supported by the State Minister of Technology Kanaka Herath, the Ministry of Technology, and the Information and Communication Technology Agency of Sri Lanka (ICTA).

Key figures in attendance included Sri Lanka Computer Association President Dr. Ajantha Athukorala, National Information Technology Conference Co-Chairman Dr. Nirosha Vedasinghe, Sri Lanka Computer Association Secretary Heshan Karunaratne, DIGIECON 2023-2030 Project Director Prasad Samarawickrama and Sri Lanka Computer Association Member Dr. Amal Ilesingha among others.