By Charumini de Silva

Sri Lanka Tourism yesterday kicked off the post-Easter Sunday attacks special promotion to woo Indian tourists.
The Sri Lanka Tourism Promotion Bureau (SLTPB) along with the Sri Lanka Association of Inbound Tour Operators (SLAITO) and SriLankan Airlines unveiled a total of 15 special promotional packages to Indian travel trade in Mumbai with a guest appearance by Sri Lankan-born Bollywood actress Jacqueline Fernandez.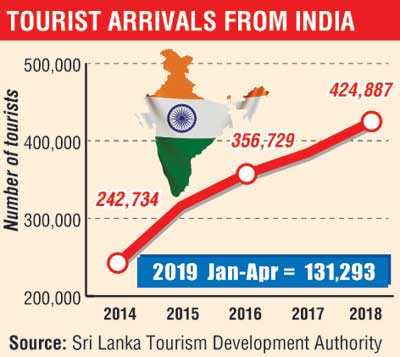 Today the promotion will move to New Delhi. The Sri Lankan delegation is headed by Tourism Development Minister John Amaratunga.
The latest promotion also involved the Indian media.
"We had a successful launch of our special promotional package in Mumbai. We also met with over 60 media personnel and a similar number of Indian travel agents and tour operators. Sri Lanka Tourism is hopeful that this campaign will bring us good results," SLTPB Chairman Kishu Gomes told the Daily FT.
India is Sri Lanka's largest source market which accounted 18.2% to 424,887 tourists last year, an increase of 10.5% from a year earlier.
The special offer is up and running from 10 June till 30 November and is available for reservations through travel agents network in India. There will be 15 different offerings as there are five different packages in three varying categories ranging from standard, superior to deluxe starting from $ 180 per person, the industry targets 32 flights per week from 11 destinations in India to Sri Lanka with an average of 150 passengers per day.
In addition, national carrier SriLankan Airlines have rolled out a comprehensive package which includes air fare, hotel accommodation on B&B basis, transport as specified in the itinerary and the service fee of the tour operator.
MasterCard which has over 180 million cardholders in India has come on board to promote these packages through its well-connected channels.