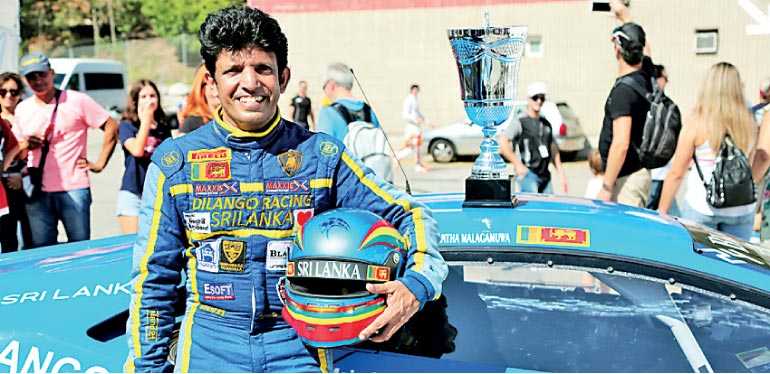 Dilantha Malagamuwa
---
Dilantha Malagamuwa, the world renowned Sri Lankan motor racing champion, will be representing Sri Lanka at the Lamborghini Super Trofeo Europe Championship 2020 held across Germany, Belgium, France and Spain from 5 September to 15 November.

Having carried the Sri Lankan flag and its pride for the past 36 years across many parts of the world, accumulating multiple accolades as a result of the fortitude and time he has placed into it, Dilantha continues to take pride in representing Sri Lanka with his fullest vigour to enhance its visibility as a nation in the field of motor racing.

The highlight of this year's championship is the integration of nation branding in his European campaign assisting the post-COVID national efforts to revive the tourism industry in Sri Lanka. Having identified the importance of integrating nation-branding into sports, bringing forth a fresh change to the system, Sri Lanka Tourism has exclusively partnered with Dilantha for the entire championship making it the first time in over 3 decades of his career.

Dilantha Malagamuwa has been crowned as the Champion in Asia, Europe and recognised in multiple World Tournaments of the highest calibre. He is also at the verge of acquiring a World Guinness Record as the 'World's Longest Active Sportsman' for his extensive career of 42 years in motor racing.

"I have identified that Dilantha Malagamuwa has been a strong advocate in promoting Sri Lanka as a nation in addition to being a world renowned sportsman. It is our responsibility to support individuals of his calibre and provide adequate value back to them as a grateful nation," said Tourism Minister Prasanna Ranatunga.

"As I always say I'm humbled by the love and admiration I have received from Sri Lankans living across the world for I have always taken pride in representing Sri Lanka in my sport," said Dilantha.

"This year is special with Sri Lanka Tourism coming on board and I must mention President Gotabaya Rajapaksha, Prime Minister Mahinda Rajapaksha and especially Tourism Minister Prasanna Ranatunga for identifying and bridging a gap between Tourism and Sports that has existed for decades," said Dilantha.

"My gratitude goes out to Mentor Helsingor Ltd., the incredible team behind the entire coordination of this facilitation, without whom this wouldn't have been a reality," he added.