Aitken Spence PLC has come up with yet another sustained financial performance for the 12 months ending 31 March with a 13.8% year-on-year growth in Profit-Before-Tax from Rs. 6.4 billion to Rs. 7.3 billion, its highest ever.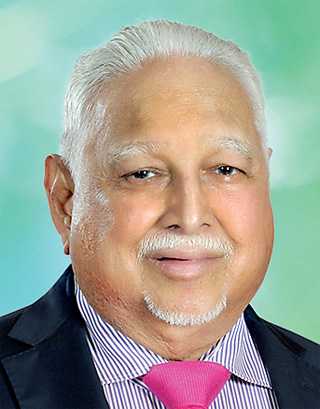 Chairman D.H.S. Jayawardena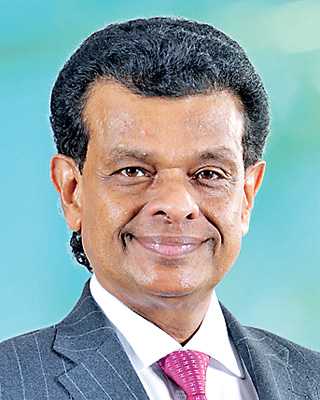 Deputy Chairman and MD Dr. Parakrama Dissanayake
In a statement, the leading conglomerate said it recorded a steady growth in several key sectors. The conglomerate capitalised on its broad-based business portfolio spread across several countries and sectors by recording an increase in its annual revenue by 5.6% from Rs. 52.7 billion to Rs. 55.7 billion whilst recording the highest-ever Profit-After-Tax of Rs. 5.8 billion. This was an increase of 12.1% from the previous year. The resilience of the Group is demonstrated by the continuous growth in EPS which reflects the strength of the Group in facing turbulence in the domestic market and still achieving sustained economic growth during this period due to its overseas investments. Currently, Aitken Spence, being an exceptionally diversified Group, has generated 44% of its profits from businesses overseas; thus, spreading its wings across countries, especially in the Tourism, Maritime and Logistics sectors. As a result, the total assets of the Group comprise of 33% accounted by assets overseas. This is an indication of the valuable relationships that have been built with global industry players in these key sectors.

The company also witnessed a growth in revenue from the overseas operations by 9.9% to Rs. 17.6 billion supported by good performances from the Tourism, and Maritime and Logistics operations, surpassing revenue growth in the domestic market. The revenue increase in the Maldives is noteworthy as growth in room supply exceeded increase in tourist arrivals, leading to stiff competition in this attractive market. Further higher domestic volumes in the cargo business resulted in increased growth in overseas Maritime and Logistics operations.

Total revenue of the Sri Lankan operations also grew by 3.7% to Rs. 38.1 billion. This was created by significant improvement in Tourism, Maritime and Logistics, and Services sectors despite a contraction in the Strategic Investments sector. As a result of the outstanding growth in the key sectors, earnings before interest, tax, depreciation and amortisation (EBITDA) increased by 20% to Rs. 6.2 billion during the year.

The Sri Lankan hotels performed extremely well, recording a Profit-Before-Tax of 40.3% over the previous year, although there was an increase in room inventory in the country which created intensive competition. Moreover, the destination management business underlined their leadership position in the country by exceeding all expectations, resulting in a Profit-Before-Tax of over Rs. 1 billion. They also brought in over 200,000 tourists into Sri Lanka, which is an exceptional achievement.

The Maritime and Logistics sector recorded a growth in profit of 20.9% to reach Rs. 2.1 billion. The performance of these two sectors improved due to an increase in imports, exports and transshipment volumes. In addition, the hub concept, which is gaining greater appreciation and attention in Sri Lanka, also contributed to improved performances in freight forwarding, courier and GSA.

The broad-based Strategic Investments sector delivered an exceptional profit growth of 40.2% to reach Rs. 1.8 billion. This was boosted by focus on driving operational efficiencies through sustainability initiatives, resulting in a turnaround in the Garments segment. The Power Generation segment is in the process of providing a lasting solution to the city of Colombo's acute garbage disposal problem by constructing a state-of-the-art waste-to-energy plant. This is a pioneering venture being carried out in Sri Lanka which will be operational in the fourth quarter of 2019/20 adding 10 MWs to the national grid.

The Services sector, comprising the insurance business and OTIS elevators, showed top line growth with the overall sector reaching a Profit-Before-Tax of Rs. 268 million, an increase of 11.6% over the previous year. The Insurance business grew as a result of increase in external trade whilst OTIS elevators saw an increase in revenue growth from projects that commenced in the prior years nearing completion. This is despite the downturn in the Construction industry.

Overall, profit attributable to shareholders crossed the Rs. 4 billion mark for the first time to Rs. 4.1 billion, an increase of 14.5%, while earnings per share (EPS) also rose from Rs. 8.77 to Rs. 10.04.

"Despite economic headwinds in key source markets and in their respective locations of operations, we have remained resilient and it is evident in the strong financial performance clearly seen across geographies and sectors. Our continued commitment to overseas expansion is evidenced by the investment of Rs. 12.6 billion in Heritance Aárah in the Maldives as it becomes the first overseas operation to carry our premium brand Heritance, which has been associated only with our iconic properties in Sri Lanka. Our Printing and Packaging segment also made an investment in Fiji in a printing business during the financial year, giving us the opportunity to further expand our horizons in the South Pacific region," stated Aitken Spence Deputy Chairman and Managing Director Dr. Parakrama Dissanayake.

"Currently, our top priority is to restore confidence and normalcy. Every one of us in the organisation is committed to making a contribution to this end. Moving forward, we will continue to work together with industry bodies to support recovery at a national level, voicing our concerns and conveying those of our business partners and customers to drive change in the right direction. We also stay committed and focused on the longer term as well, investing wisely to ensure that we drive the growth momentum in the country," he added.

Aitken Spence won the Best Corporate Citizen Sustainability Award 2018 for the second successive year and has been ranked among the Top 10 Corporate Citizens for an unprecedented 13 consecutive years.

Listed in the Colombo Stock Exchange since 1983 and marking its 150th year milestone in September 2018, Aitken Spence is a blue-chip conglomerate with a strong regional presence in the Hotels, Travels, Maritime Services, Logistic Solutions, Plantations, Power Generation, Financial Outsourcing, Insurance, IT, Printing and Apparel sectors.