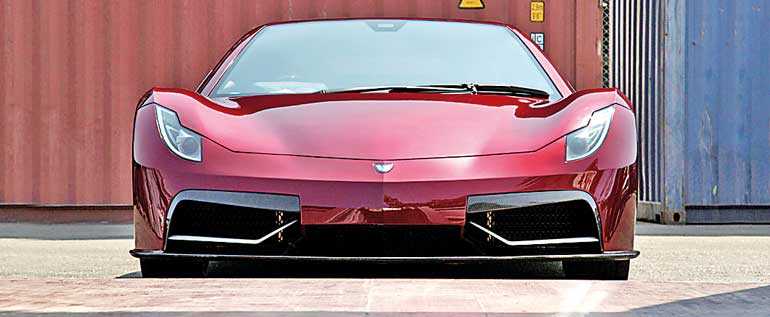 Vega EVX - Vega Innovations (all rights reserved)
---
Vega Innovations, a subsidiary of CodeGen International Ltd, will create history once again as the Vega EVX, Sri Lanka's and South Asia's first fully-electric supercar, is shipped to Switzerland to be unveiled at the 90th Geneva International Motor Show.

The vehicle was shipped from the Colombo harbour on 19 January and will reach its destination in late February. The motor show will be held from 5-15 March.

Vega EVX will be the first-ever vehicle in history entirely designed and engineered in Sri Lanka to be showcased at a premier international motor show. This all-electric supercar is powered by a dual-motor all-wheel-drive drivetrain delivering 804 HP and 720 NM of torque. With a 40 kWh battery-pack, recent test drives confirm a staggering 0 to 100 kmph acceleration in 3.1 seconds, an estimated range of 250 km and a top speed of 240 kmph, displaying the overall performance of the Vega EVX Supercar. This two-seater supercar showcases advanced multidisciplinary technology applications and a skilfully fabricated lightweight carbon fibre body.

"Unlike most electric supercars in the market, the electronics and software for the Vega EVX, along with the liquid cooled battery-pack and the motor-controller, were entirely designed and developed by the in-house team. Moreover, the electronic vehicle controller, body controller, thermal control system, fully-digital infotainment system and instrument cluster components, developed from the ground up, add to the product's excellence and know-how of Vega Innovations," stated Vega Innovations Director Beshan Kulapala.

"The team behind Vega EVX is an extraordinary bunch of dedicated and passionate individuals who worked together long nights and years to realise a dream that was admired and supported by an entire nation. We are excited to travel to Switzerland as changemakers, making history at one of the most sought-after international motor shows in the world. We continue to build and optimise our very own innovative products under Vega Innovations, offering services to global companies and brands as an Original Equipment Manufacturer (OEM) and Components Design company. At the same time, we will actively secure alliances with strategic partners to deliver high-performance solutions to the wider world," Kulapala added.

The vital task of handling logistical services for this high-priced vehicle is placed in the hands of the Maersk International Group, chosen for its vast experience and knowledge in dealing with such consignments.

"We are proud to partner CodeGen as Sri Lanka makes history in the international arena by showcasing an engineering marvel once again to the wider world. We are excited for the team behind Vega EVX and CodeGen for realising their dream," said Maersk Country Sales Manager Randima Krishnaratne.

CodeGen International Group of Companies CEO Harsha Subasinghe said: "We have reached the zenith of extraordinary design, delivery and innovation by launching our very own world-class supercar at the prestigious Geneva International Motor Show. Sri Lanka will not only be admired for its vast biodiversity but most importantly be known for our people who continuously push boundaries to drive change with an innate passion to do great things here in Sri Lanka. I am extremely proud to have such an exceptional talent pool, driven and committed to reach this amazing milestone not only for CodeGen but also for Sri Lanka. By pioneering design-, people-, nation-centric innovations, CodeGen has been drawing attention from worldwide media, and we will continue to deliver high-performance teams and products as we transform tomorrow's world."

CodeGen is at the forefront of driving change and delivering excellence globally in multiple industries through exceptional innovations. The company's ongoing commitment to research and continuous innovation is hugely encouraging for the youth of Sri Lanka to leverage opportunity and skills in multidisciplinary fields.


Caption: Vega EVX – Vega Innovations all rights reserved