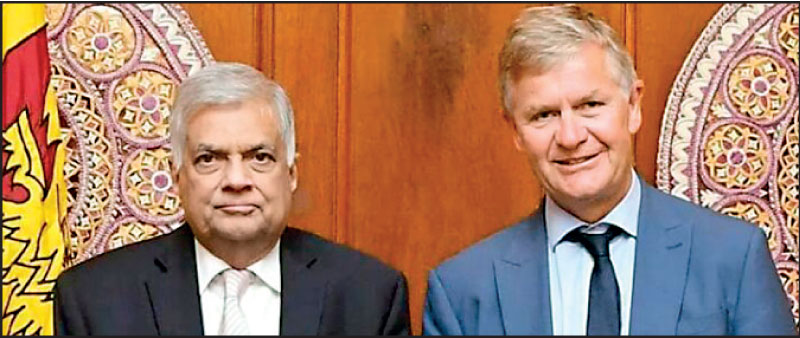 Norwegian former Minister Erik Solheim with President Ranil Wickremesinghe
---
Norwegian former Minister Erik Solheim and Maldivian former President Mohamed Nasheed have been appointed as International Climate Advisers to President Ranil Wickremesinghe.

Solheim called on President Wickremesinghe yesterday and following the meeting said that the President has a great vision for green economic recovery and for Sri Lankan climate leadership.

"Proud to be appointed his International Climate Adviser together with @MohamedNasheed," he tweeted yesterday.

Solheim was Norway's former International Development and Environment Minister. In 2000, he took up the role as a Special Adviser in the Norway Foreign Affairs Ministry, working as a participant in the Norwegian delegation that negotiated with the Sri Lankan Government and the LTTE militants to agree on a peace deal.

More recently, Solheim has been working on climate change issues. He also functioned as the United Nations Environment Program Executive Director.

Maldivian former President Nasheed has also been working closely with President Ranil Wickremesinghe on international affairs.