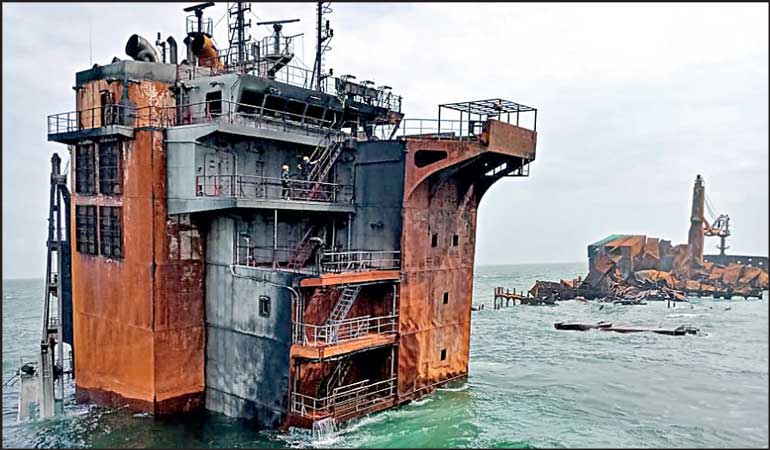 ---
Lists suggestions, calls for impartial probe


The Sri Lanka Shippers' Council (SLSC) has expressed concerns over the X-Press Pearl catastrophe, the extent of which is so far said to be minimal to trade but significant overall to the country.

It also called for a thorough and impartial investigation into this incident, particularly one that keeps politics and geopolitics aside, so that justice will prevail.

In a statement, SLSC Chairman Suren Abeysekera said the ill-fated ship was carrying many imports to the country, including raw materials for the apparel industry and other sectors' imports, all which were affected and engulfed in the fire.

"However, so far, there have been no reports of considerable delays in other vessel operations or imports due to the fire, but the industry may experience additional delays in the future due to stringent checks that may have to be put in place by the Harbour Master and/or the Sri Lanka Ports Authority (SLPA) before authorising ships to enter Colombo Port – thus increasing congestion and delaying ships' operations," said SLSC, the apex body representing importers and exporters

It said 1,500 containers being destroyed in the vessel could lead to a short- to mid-term scarcity of empty containers in South Asia, which is currently experiencing a severe shortage of empty containers for exports owing to the impact of COVID-19.

"So, the loss of these containers will then attract additional costs in terms of having to reposition empty containers from other regions to fulfil export requirements," SLSC said.

Shippers' Council...

It warned that due to these frequent incidents in and around Sri Lanka, the premium that needs to be paid as cargo insurance by shippers could also increase. "This will then have other ripple effects, such as a price increase in commodity goods, resulting in inflation and export manufacturing cost increases, hence reducing our export competitiveness globally," SLSC said.

"Another macro effect could be the higher number of maritime insurance claims driving increases in insurance premia for vessels (implemented by P&I clubs) calling Colombo, which then would obviously be passed down to shippers, further increasing the already very high shipping rates."

SLSC, in its statement, also listed four recommendations to avoid or minimise such future disasters as well as measures needed for the best way forward.

See Page 11 for the full statement.