SSP Abeysekara to be released after nearly a year in jail over unsubstantiated charges
Court of Appeal says allegations against Shani result of "falsification and embellishment"
Victims' families welcome former CID chief's release
Amnesty Int'l says bail order a "hopeful sign"
Shani's imprisonment was "inhumane act of revenge": Karu Jayasuriya
Truth and justice have won, says Eran
Ahimsa tweets that court decision brings "relief and hope"
"Shani was jailed for pursuing justice for families like mine": Sandhya Eknaligoda
---
By a Special Correspondent
---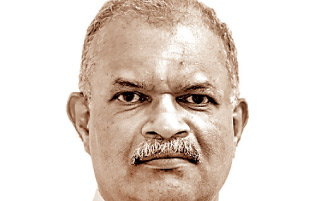 Shani Abeysekara
---
The Court of Appeal decision to grant bail to former CID Director Shani Abeysekara sparked a torrent of reactions from human rights groups, victims, and opposition activists yesterday, who have long viewed the arrest and incarceration as a reprisal against his investigations into high profile human rights abuses.

Making an order on an application filed by lawyers for Abeysekara and Sub Inspector Sugath Mendis, who was also arrested in connection with the case in July-August 2020, a bench comprising Court of Appeal Justices Bandula Karunaratne and C.D. Gurusinghe released the two police officers on cash bail of Rs. 25,000 and personal bail of Rs. 1 million with two sureties.
The Court Order also tore the Colombo Crimes Division (CCD) case against Abeysekara to pieces, observing the "extraordinary delay" in two witnesses in a 2014 murder trial making the complaint against the two cops. The Court of Appeal said the delay "demonstrates very strongly that the allegations against the suspect Shani Abeysekara are a result of falsification and embellishment, and a creature of afterthought."

The Appeal Court banned foreign travel for both officers and ordered their passports be impounded.
Counsel Viran Corea with Thilini Vidanagamage instructed by Gowrie Thavarasha appeared for Abeysekara. Counsel Chaminda Athukorale with Hafeel Farisz, instructed by Nigel Walters appeared for SI Mendis.
Despite the Court of Appeal bail order, the Gampaha Magistrate yesterday further remanded SSP Abeysekara and SI Mendis until 30 June. Lawyers explained that the higher court order was yet to be delivered to the Magistrate and the High Court from the Court of Appeal registry.
The High Court in Gampaha will have to accept sureties and bail for the two suspects. Motions will be filed in the relevant courts after which the two former CID officials will be released on bail, likely today, lawyers said.

Abeysekara and Mendis were appealing a High Court decision rejecting their bail applications several months ago.

Their lawyers made submissions on the motion on Tuesday (15), and the Attorney General opposed granting bail until investigations into the matter were complete. The two former CID officers were arrested on charges of allegedly fabricating evidence in a murder investigation conducted eight years ago. A High Court Trial-at-Bar convicted DIG Vaas Gunawardena of the murder, following Abeysekara's investigations.

"Today truth and justice has won over falsehoods. We hope the same is true for Hejaaz Hizbullah, Ahnaf Jazeem, Rishard Bathiudeen and others who are being held arbitrarily under the Prevention of Terrorism Act," tweeted SJB lawmaker Eran Wickramaratne after the Court of Appeal granted bail.

Amnesty International South Asia said the Court's decision to grant bail to Abeysekara and Mendis was a "hopeful sign" that Sri Lanka's judiciary would not allow authorities to target those conducting investigations into human rights abuses.

"It is our concern that most law enforcement officers who were placed under travel bans, transferred, demoted or arrested, were victims of retaliation by authorities for carrying out investigations including into human rights abuses," Amnesty International tweeted.

As CID Director, Abeysekara supervised investigations into several emblematic human rights cases, including the enforced disappearance of cartoonist Prageeth Ekneligoda, the abduction and murder of 11 youth by a gang of Navy officers, and the Lasantha Wickrematunge murder probe.

Ahimsa Wickrematunge said "fearless investigations" by Shani Abeysekara and his officers were the only reason she knew what happened to her father, the journalist Lasantha Wickrematunge, who was killed 12 years ago in 2009.

"These officers have suffered immensely for their courage," she tweeted soon after Abeysekara and Mendis were granted bail. The Court's decision brought "relief and hope," Wickrematunge tweeted, but also new fears for the safety of the two former CID officers.

Eknaligoda's wife Sandhya, a disappearances campaigner, also expressed relief Abeysekara had been released on bail. "It was because of us, the victims of various crimes that he was imprisoned. He was an honest government official who was merely trying to do his duty," Sandhya Eknaligoda told Daily FT.

Eknaligoda has also faced slurs and intimidation because of her relentless pursuit of justice for her husband Prageeth, from powerful forces implicated in his disappearance. She said she felt bad about being unable to do more to support Abeysekara when he was arrested. "I owe him and his family an apology for this failure. He tried to deliver justice to us, but we were unable to reciprocate."

Abeysekara must be acquitted of the trumped-up charges he was facing, Eknaligoda insisted.

The Government has faced mounting pressure internationally and from the Opposition over its continued persecution of critics and political opponents. A resolution adopted in the European Parliament recently flagged Abeysekara's case and the PTA detentions of Hejaaz Hizbullah and poet Ahnaf Jazeem. The resolution urged the Government to bring valid charges against the detainees or release them unconditionally.

The main Opposition, SJB, has accused the Government of endangering the country's economic security over its political vendettas, after the EU Parliament called for a temporary suspension of Sri Lanka's GSP+ concessions.

Addressing a media conference yesterday, former Speaker of Parliament Karu Jayasuriya called Abeysekara's incarceration "inhumane," "evil," and an "act of revenge". The police had held the former CID director in custody for nearly a year, Jayasuriya said, without being able to file a valid charge against him.

The Court of Appeal decision comes after months of delays. For the first time in nearly a year, SSP Abeysekara will return to his family.

In custody, the former CID Chief suffered a heart attack, contracted COVID-19 and underwent major cardiac surgery, all while being refused bail on a charge police have yet to prove after locking the former cop up for more than 10 months.

Yesterday's decision by the courts was only the first step in a long road, Ahimsa Wickrematunge tweeted after the order was delivered. "Shani and his fellow officers answered my prayers for justice when no one else did. Today more than ever I am certain the arc of history will bend towards justice for them," she said.