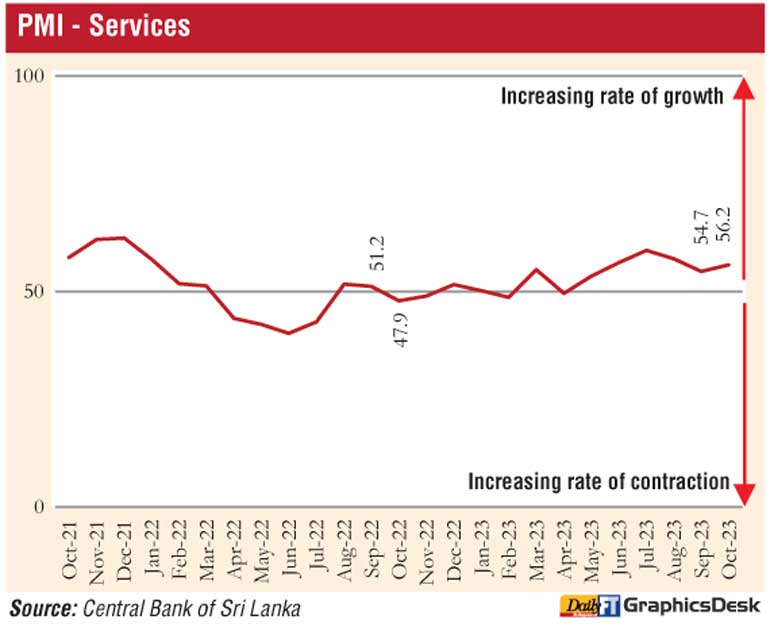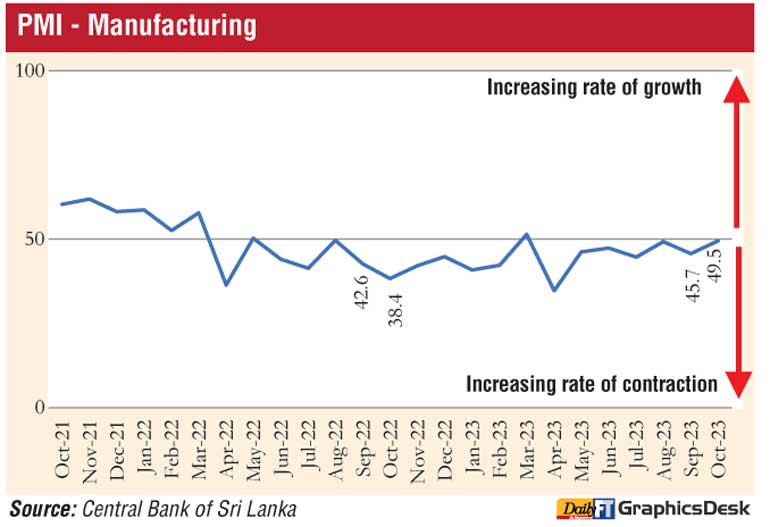 Manufacturing sector contraction softens as per PMI
The services sector continued its expansion in October but recent electricity hike and proposed higher VAT from January have clouded its outlook as per the Purchasing Managers' Index (PMI) compiled by the Central Bank.

On the other hand, the manufacturing sector contraction had softened in October and immediate prospects looked better due to the festive season.

CBSL said manufacturing PMI recorded an index value of 49.5 in October 2023, reaching towards the neutral threshold, during the month. Considering the sub-indices, new orders and stock of purchases increased during the month, while production and employment remained contracted.

New orders expanded during the month, driven by the manufacture of textiles and wearing apparel sector, mainly attributable to the seasonal demand. The decline in production was mainly due to the manufacture of food and beverages sector, partly owing to the prevailed extreme weather conditions. Moreover, employment continued to decrease on a month-on-month basis as most of the firms only recruited for the resignations and retirements. The overall stock of purchases increased during the month due to the accumulation of raw materials, targeting the seasonal production. Suppliers' delivery time shortened at a slower pace during October compared to the previous month.

Expectations for the manufacturing activities for the next three months remained positive, mainly due to the expected increase in demand in the upcoming festive season.

CBSL said services sector PMI recorded an index value of 56.2 in October 2023 indicating continued expansion in the services activities. This was led by the increases observed in new businesses, business activities and expectations for activity. Nevertheless, backlogs of work and employment contracted during the month.

New businesses increased in October 2023 compared to September 2023, particularly with the increases observed in financial services, wholesale and retail trade, other personal activities and insurance sub-sectors.

Business activities also expanded at a higher pace in October 2023 attributable to positive developments in most of the sub-sectors. Accordingly, business activities in the financial services sub-sector continued to increase amid some improvements observed in credit demand. Further, some notable developments were also seen in wholesale and retail trade, and other personal activities sub-sectors during the month.

Employment fell back below the threshold level after previous month's marginal increase, while backlogs of work also decreased at a slower pace during October.
Expectations for business activities for the next three months continued to increase in October. Many respondents highlighted the expected improvements in their business activities during the upcoming festive and tourist season. However, some respondents expressed their concerns regarding the recent increase in the electricity tariff and the proposed increase in Value Added Tax.