Says he had agreed to serve as PM if several conditions were fulfilled
Reveals that representatives of the two sides held several rounds of talks
Says willing to take up PM post if President agrees to conditions including giving stipulated time frame within which he will step down
---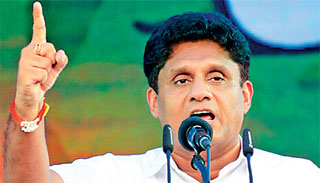 SJB Leader Sajith Premadasa
---
SJB Leader Sajith Premadasa has informed President Gotabaya Rajapaksa that his party will not nominate anyone to serve in the Cabinet under newly appointed Prime Minister Ranil Wickremesinghe.

Replying to the letter sent to him by the President on Thursday, Premadasa said he had agreed to take over the post of Prime Minister and form a Government if several conditions were fulfilled.

He said representatives of the two sides held several rounds of discussions on how to come to an agreement and on 12 May, he had informed that he is willing to take over the post of PM.

Premadasa said the SJB had insisted that if they were to form the Government, then the President must agree to step down within a stipulated time period as this was in keeping with the demands of the public.

Premadasa also denied the President's claim that he had waited till the last minute to inform him that he is willing to be PM.

He added that if the President agrees to the conditions the SJB has placed before him, he is committed to serving as Prime Minister in a Government he sets up.