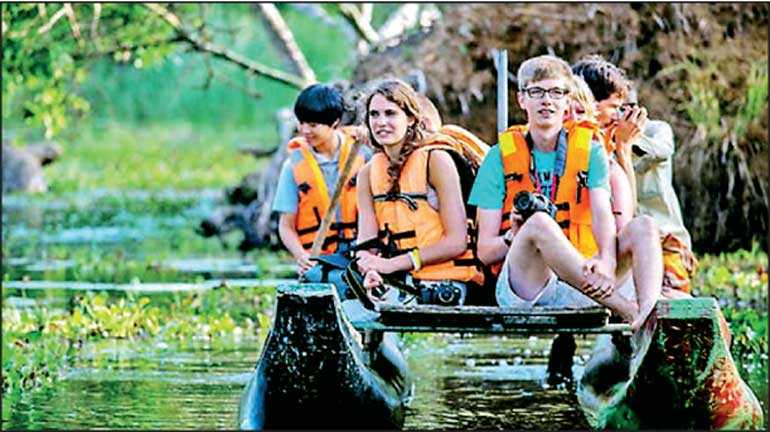 Tourists visiting Sri Lanka before the COVID-19 outbreak
Four intl. firms with global experience in health and hospitality submit bids
Hopes to award tender by early next week to fast-track issuances
Selected company to work under Health Ministry purview
Hotels keen to welcome tourists, first round of inspections to be at Govt. cost
By Charumini de Silva

Sri Lanka Tourism Development Authority (SLTDA) has shortlisted four audit companies with international experience in the health and hospitality industry to outsource the COVID-19 safety standard compliance certification process for hotels.

In June, the Government decided to introduce a COVID-19 safety standard compliance certification for all SLTDA registered entities in a move to reassure tourists considering Sri Lanka for their next holiday post-pandemic. The compliance certification is open to all accommodation providers and travel agents registered with SLTDA — the regulatory and standards setting body of the industry.

All tourists will be required to stay in COVID-19 health safety compliant accommodation, be it a five star hotel, resort or home-stays and their tours arranged by certified travel agents. "We are now in the process of finalising the best bid. We hope to award the tender by early next week, to fast-track the issuance of certificates to all SLTDA registered entities waiting to resume operations," SLTDA Director General Dhammika Wijesinghe told the Daily FT.

She said the audit firm will issue the compliance certification after strict inspection and auditing process under the purview of Health Ministry. "It is a joint initiative by Sri Lanka Tourism and Health Ministry. Hotels that are complying with international best practices outlined by World Health Organisation (WHO) and Health Ministry of Sri Lanka have a better chance to obtain the certificate," she added.

The certification will ensure these hotels have implemented the guidelines outlined by the Health Ministry to resume operations post-COVID-19 and foreign tourists will only be able to reserve accommodation in these hotels that are compliant and recommended.

Noting that many hotels have already informed SLTDA on their readiness for inspection, Wijesinghe said duration for larger establishments would be around five to six hours, while others within few hours. Wijesinghe also noted that if the free-of-charge first inspection is failed, the hotel will have to bear the cost second time.

The Director General however, denied to disclose the cost of the certification, as SLTDA is yet to award the tender letters. At present there are over 2,500 SLTDA registered entities. She expressed confidence in issuing the certification by mid-August, coinciding with the reopening of the Bandaranaike International Airport (BIA) for foreign travellers.