Charges no transparency in approval process
Says if elected all agreements will be presented to Parliament before signing
Charges Govt. failed to consult AG's Dept. on MCC
By Nuwan Senarathna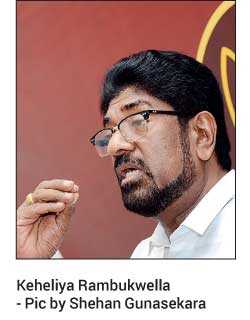 The Sri Lanka Podujana Peramuna (SLPP) yesterday said if its presidential candidate Gotabaya Rajapaksa is elected he would revisit and renegotiate all bilateral agreements, including the $ 480 million Millennium Challenge Corporation (MCC) grant Cabinet approved this week.

The Cabinet of Ministers on Tuesday approved the implementation of the $ 480 million MCC grant, based on a proposal by Finance Minister Mangala Samaraweera. However, the SLPP had opposed the grant on the basis it would affect the country's sovereignty.

Speaking to media at the Viyathmaga head office in Ethul Kotte, SLPP spokesman MP Keheliya Rambukwella said grave concerns have been raised on why the Government sought Cabinet approval for the MCC on eve of Presidential Elections.

SLPP...

According to Rambukwella, the Government did not follow transparent procedures with regard to the projects to be carried out under the MCC grant, which raises concerns over transparency of the grant and how that will affect the country's sovereignty.

Rambukwella charged the Government had kept the public in dark and had failed to release details of the agreement before pushing to have it signed. He argued if the Government is hesitant to release details of bilateral agreements that gives rise to suspicions on the transparency of agreements. He noted if elected, their Government would present all agreements to Parliament before signing them and follow transparent procedures.

"We need very careful scrutiny on all these agreements. This agreement in particular needs to be brought before Parliament. Members of the Parliament should know about these agreements as we represent the interests of the public and can reveal details to the public," Rambukwella said.

He argued all agreements under the MCC should be referred to the Attorney General's Department to scrutinise the agreements. He charged the Government had failed to do so but rushed to get approvals for the MCC, which raised questions about the intentions of the Government.

He charged some bilateral agreements signed under the current Government were one-sided agreements. "When we look at agreements such as Sri Lanka-Singapore Free Trade Agreement (FTA) that is totally one-sided. When we are in power we can request them to revisit it and we have the right to do that because the public was not aware of what was included in these agreements.

"There is a sinister move behind all these actions. We don't say all these are bad agreements. We are prepared to look at all these things and any agreement has to be mutually beneficial. It cannot be one-sided," he said.