Ports and Shipping Minister Mahinda Samarasinghe shows off a document at the media briefing yesterday as Sri Lanka Port Authority Chairman Dr. Parakrama Dissanayake looks on - Pic by Ruwan Walpola
By Skandha Gunasekara
Bringing in the dividends of the Hambantota Port lease to China, the Sri Lanka Ports Authority (SLPA) recorded an unprecedented profit of Rs 13.3 billion in 2017 assisted by its relief, top officials said yesterday.
Ports and Shipping Minister Mahinda Samarasinghe announced the revenue numbers yesterday while addressing a media briefing at the Ministry headquarters in Fort.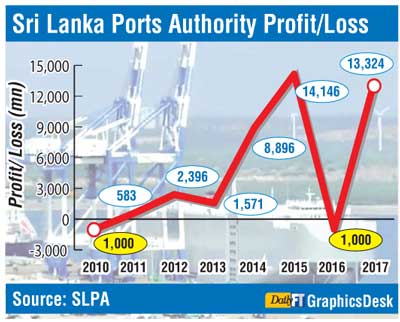 The leasing out of the Hambantota Port to a Chinese company and thereafter having the SLPA debts reduced was described as the main contributor to the high profit margin, the Minister noted.
The growth of the transhipment sector in 2017 by 20%, particularly in the 4th quarter, also assisted the SLPA in making higher profits than previous years.
"The SLPA expects t to achieve a similar or higher profit in 2018," the Minister said, adding that the Government hopes to further develop the Colombo Port as a transhipment hub.
Elaborating on the profit/loss statistics of the SLPA in the past several years, the Minister said that in 2010 the SLPA had incurred a loss of Rs. 1000 million, in 2011 made a profit of Rs 583 million, a profit of Rs 2396 million in 2012, Rs 1571 million profit in 2013, Rs 8896 million profit in 2014, a loss of Rs 14,168 in 2015, a profit of Rs 1000 billion in 2016 and a profit of 13,324 million in 2017.
The SLPA had revenue of Rs 45,608 million in 2017, an increase of Rs 1528 million or 3.5%, when compared to 2016, which saw a revenue of Rs 44,080 million.
In addition, the SLPA was able to reduce its expenditure cost from Rs 33,005 million in 2016 to 30,180 million in 2017; a reduction of 8.6%, the Minister pointed out.
Subsequently, the Minister said that with the increase in profits, the SLPA has increased the wages of all its employees by Rs 10,000.
"We were able to achieve such profits because of the commitment and hard work of the SLPA employees. The increment of wages is effective from 1 January 2018. We will be ensuring the employees are paid in full for January and February. Rs 5000 from this Rs 10,000 increase will directly be added to their salaries. We will also be providing additional benefits and privileges as well," the Minister said.
He said the wage hike was introduced in accordance with an agreement entered into between the Treasury, the SLPA and a number of SLPA trade unions.
Meanwhile SLPA Chairman Dr. Parakrama Dissanayake said that the employee wage hike will cost the SLPA and estimated Rs. 2300 million.